Top Technological Breakthroughs Made by Fosjoas Electric Unicycle
Source:Fosjoas begin Time: 2015-08-24
Nowadays, self-balancing scooters is a new arrival in transport field and it is more and more popular with each passing day. Meanwhile, Fosjoas is one of leading brands in intelligent self-balancing electric scooter sector and Fosjoas electric scooters are highly praised as the best low-carbon travel. Comparatively speaking, what special advantages do Fosjoas electric scooters enjoy? Then, the following would like to share several technological breakthroughs made by Fosjoas.
Applying aerospace attitude control theory, fuzzy software algorithm and gyroscope system is one of outstanding technological breakthroughs. For Fosjoas electric scooters, they can realize forward and back self-balancing. For riders, they can control electric scooters more easily. All of operations, like speeding up, slowing down, braking or changing direction, can be finished by changing the center of body weight. Therefore, Fosjoas electric scooters offer the most stable and comfortable riding experience. Using electricity as the power source is another highlight. For one thing, electricity is totally emission-free and thus Fosjoas electric scooters are environmental-friendly. For another thing, Fosjoas self-balancing scooters only cost 2KWH every 100km at most, which is why they are reputed as the most economical transport. In addition, Fosjoas electric scooters are equipped with imported SONY or Panasonic lithium-ion batteries, which are much more durable than ordinary ones.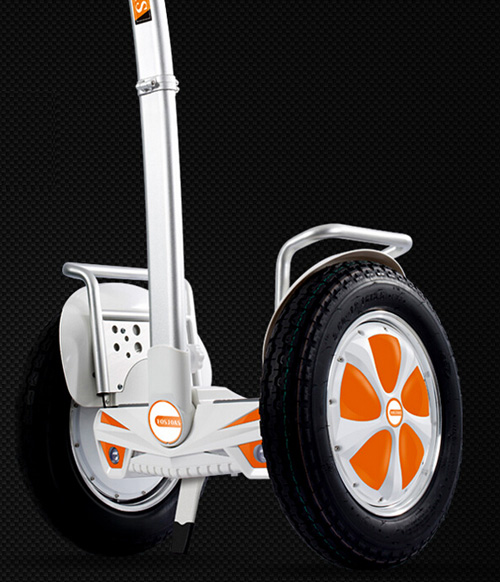 High-quality Cheng Shin tyre adopted by Fosjoas intelligent scooter is also a wise decision. Such a tyre is wear-resistant and thus it has much longer service life. Meanwhile, Cheng Shin tyre is able to challenge various difficult conditions. Take Fosjoas U3 for instance. U3 two wheel scooter is equipped with two 16-inch Cheng Shin tyres that are designed wider and thicker, which paves the way for bigger contact surface between the tyres and the road surface. Bigger contact surface is helpful for U3 to conquer all kinds of rugged road conditions. In addition, Fosjoas also has achieved great success in deadening noise, increasing range and upgrading intelligent chip. Based on diligent R&D team, Fosjoas will make more technological breakthroughs in the near future.