Energy Supplement Given by Fosjoas Electric Unicycle V9
Source:Fosjoas begin Time: 2015-08-26
One of most annoying issues must come to traffic congestion by which the good mood of the whole day can be spoiled. Although people even the whole country have taken actions to ease traffic pressure, such as bus or metro taking encouragement, odd and even license plate rule, the traffic issues are still serious. Fosjoas two-wheeled self-balancing unicycle V9 with no-emission neither imposes burden on traffic controls nor brings environmental pollution, besides its own powerful energy, Fosjoas V9 itself can provide riders with energy supplement, which makes whole day as fresh as paint.
Fosjoas electric unicycle V9 itself is the vehicle possessing powerful driving force, with advanced maglev motor, riders can feel power without disturbance of noise, from this single aspect, Fosjoas V9 will bring riders a comfortable journey. Besides, the motor mounted on Fosjoas self-balancing unicycle V9 is much smaller than that of ordinary ones, so that it reduces the vehicle weight to some extent which offers riders convenience to take along. Because the upgraded motor can yield much power and is energy-efficient, the lifespan of battery installed expands. For battery, Fosjoas electric unicycle V9 uses Japan-made lithium-ion battery core, whose lifespan is longer than that of other lithium battery. With the rapid development of high technology, the joint of above-mentioned battery and motor add bright spots to Fosjoas self-balancing V9.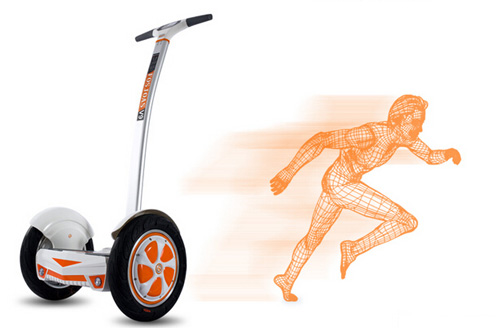 Pleasure should start from going out every day, even if not going to crowded streets, just riding in the quiet path has such great fun, maybe in the future, there may be such a picture, many people ride the electric unicycles instead of walking to hang out in the neighborhoods at dusk. This is not just the change of riding, but the way of living. What Fosjoas V9 two-wheel scooter brings to people is not limited to convenience, the most it brings is the spirit that life does not need invariability, energy and vitality are the components to it.