Fosjoas Electric Unicycle' Relentless Pursuit of Perfection
Source:Fosjoas begin Time: 2015-08-28
At present, with the improvement of living condition, there are many kinds of vehicles for citizens to choose. Moben Global Inc. is an enterprise keeping abreast of the times. Since environment deterioration and resource abuse have caught wide attention from the society, many people have changed their vehicles. But sometimes walk or biking is so tiring for them.
Fosjoas intelligent self-balancing scooters help citizens solve this problem. Moreover, with Fosjoas's relentless pursuit of perfection, Fosjoas intelligent scooters can satisfy more and more requirements of citizens. Moben Global Inc. has rolled out several series of Fosjoas electric scooters by sequence: the single-wheeled scooter, the twin-wheeled scooter, the 2-wheeled scooter and the new sitting-posture scooter.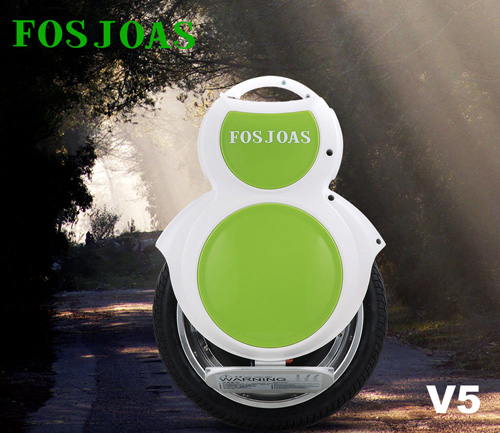 The single-wheeled scooter V6 is the first product of Fosjoas electric scooter. It is flexible with its unicycle structure. And it is so portable that users can take them everywhere. Then, Moben Global Inc. released the twin-wheeled scooter V5. The twin-wheeled structure make users easier to learn riding V5. The contact area between the tires and the ground is wider, which is safer for users to ride.
To meet citizens' needs, the 2-wheeled scooters are launched by Moben. The newest products of the 2-wheeled models are K3 and U3. U3 appears much rougher than any other models. It is equipped with two larger wheel hubs, whose size is 16 inches. The maximum peak of Fosjoas U3's motor is 1500W, and its output power is the biggest among all. The larger battery capacity of U3 also brings it longer range. Fosjoas K3, as the only sitting-posture scooter, brings riders comfortable experiences on the road. With the help of new sitting design and pioneering elements, riding on K3 will be safer and more comfortable. In addition, K3 has a dedicated App which can be connected to smart phones.
Fosjoas self-balancing scooters never stop pursuing perfection. The spirit makes them become better and attract more and more citizens.