Fosjoas Intelligent Self-balancing Unicycles V6: Less is More
Source:Fosjoas begin Time: 2015-08-31
Moben designers have applied the classical one-wheeled structure to Fosjoas V6. At the first sight of it, someone may think V6 is so simplified. In fact, less is more. Fosjoas V6 one-wheel scooter uses the original Sony lithium batteries, which is greener, safer and more non-toxic than other batteries. It only takes about 90 minutes to reach the full charge. But the lifetime of Japan-made lithium batteries is 2.9 times than other ones. The famous Cheng Shin Tyre is also used in producing Fosjoas V6. And it is a key tire supplier for BMW. The high-end tires have great performance in wear resistance, heat dissipation and road holding. In addition, synthetic resin shells of Fosjoas V6 are made of advanced nano materials. They are electrical insulated and corrosion resistant.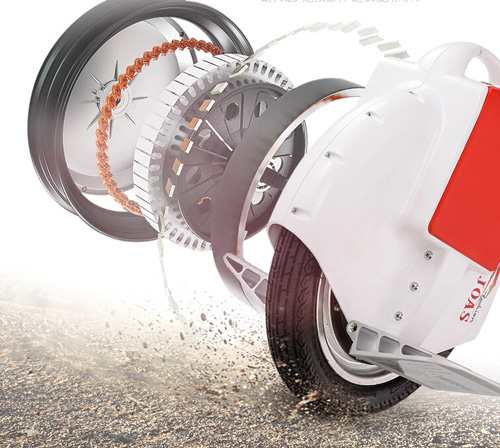 What's more, Moben applies the world's leading intelligent system in the smart chip of Fosjoas V6. To keep self-balancing, the inside smart chips have used aerospace attitude control theory, fuzzy software algorithm and gyroscope system. Users just need to change the angles of their bodies forward, backward, left or right, then Fosjoas intelligent unicycle V6 will move forward, backward, left or right with the angles. It isn't very difficult for users to learn riding V6.
The design of Fosjoas one-wheel electric unicycle seems very simple, but it includes so many high technologies.
If users want to experience the intelligent vehicles, they can try Fosjoas V6 first.