Let Fosjoas Electric Unicycle U3 Guide Riders
Source:Fosjoas begin Time: 2015-09-01
A famous writer once said that, "Path is shown up only when thousands of people walk through." Only brave people can benefit posterity and be remembered, however, courage is not just talking, it needs practical action to realize. Fosjoas electric self-balancing unicycle U3 is a good partner to lead riders to explore the wonders of lives.
The reason why Fosjoas electric scooter U3 is called SUV scooter is its stronger power supply. The powerful driving force of Fosjoas U3 ensures adaption of any terrain. To achieve expected effect, developers use advanced technology, what's more, thanks to their hard work, the super quiet motor mounted on the scooter wins itself applause. Another obvious change is the chip, based on the inheritance of past products, the new chip which brings riders more surprises and more smart experiences is more intelligent. One necessary part to decide whether a scooter can run along the rough road or not is the tire.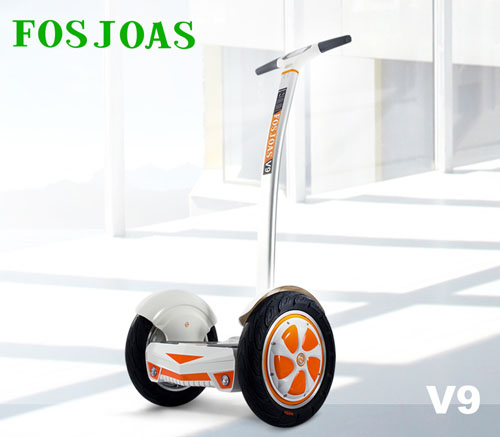 Of course, the tires of Fosjoas two-wheeled electric self-balancing scooter U3 are Cheng Shin tires, besides the larger hubs of 16-inch, the adopted tires have unique tread pattern, just for which, no matter water or heat can be drained or dissipated well and the grip performance is also improved. If people think the improvement of Fosjoas U3 is limited to above introduction, that would be not right. Even the little detail is also well-designed, for example, if people take enough care, they may find a silicone bumper strip at the back of the handlebar, its existence is not an accident or just for elegant appearance, but to avoid scratch and abrasion when parking Fosjoas U3 against walls, is the humanized design fantastic?
If there is no curiosity, there will be no brave heart, if there is no brave heart, there will be no wonders in ordinary lives, if lives always have no beautiful sights, why god gives people two bright eyes, eyes are used to find beauty, let Fosjoas U3 two wheel scooter guide riders to meet better future.