Fosjoas Top Electric Unicycle Explains Low-Carbon and Green Travel
Source:Fosjoas begin Time: 2015-09-04
Fosjoas electric self-balancing scooters is equipped with advanced SONY or Panasonic lithium-ion battery. Compared with ordinary batteries, lithium-ion one enjoys longer useful life, more stable performance and higher safety. After all, high-quality battery plays an important role in keeping excellent comprehensive performance of Fosjoas self-balancing scooter. Now that every type of Fosjoas electric scooter is equipped with lithium-ion battery, it means that electricity is the driving power.
It is well-known that electricity belongs to clean energy, because it is emission-free. In other words, riding Fosjoas electric scooter will not discharge any exhaust, which is helpful to protect the living environment. In the meantime, Fosjoas electric scooter asks for a small quantity of electricity every 100km. For example, Fosjoas U3 with largest battery capacity only costs 2KWH every 100km. That is to say, it caters for the appeal of saving energy. In addition, Fosjoas R&D team adopts advanced technique so that its electric scooter is totally noise-free during riding process.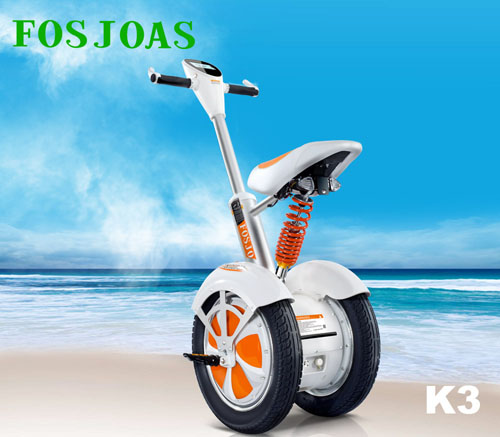 In order to better fulfill the demand of low-carbon and green travel, Fosjoas offers many different types of electric scooters, which can cover almost all of travel requirements in people's daily life. If people want to ride Fosjoas electric scooter to work, to go shopping or to take exercise, small-sized and light-weighted Fosjoas electric unicycle is the best choice. If people want to have a sightseeing within city or to enjoy cool sea breezes, Fosjoas V9 and K3 are excellent helpers. For those cross-country enthusiasts, Fosjoas U3 two-wheel electric scooters is the only and perfect selection, because it is highly praised as SUV electric scooter.