The Personal SUV, FOSJOAS Intelligent Self-Balancing Scooter U3
Source:Fosjoas begin Time: 2015-09-05
Months ago, Moben Global Inc. pushed out a revolutionary model, FOSJOAS two-wheeled intelligent scooter V9. It is considered as an innovation and a breakthrough in the history of scooter. Therefore, Moben Global Inc. has the intention of launching another self-balancing two-wheel electric scooters. This time, Moben Global Inc. released the upgraded version of V9, FOSJOAS U3. Moben Global Inc. positions U3 as the personal SUV.
As a SUV, FOSJOAS U3 has to overcome all difficult terrains. On the muddy or craggy paths, it is rather hard for other previous model to pass. But the tough paths has never stumped FOSJOAS U3. The electric scooter U3 is outfitted with the larger wheels than V9. The large wheels enable FOSJOAS intelligent self-balancing scooter U3 to pass those tough terrains smoothly like a veritable SUV in the sector of auto.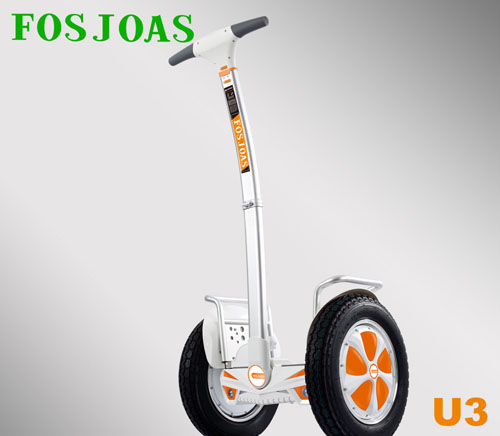 Compared with FOSJOAS intelligent self-balancing scooter V9, FOSJOAS U3 has a more potent motor and powerful battery. The motor and battery take on a great importance for a scooter. The high-quality motor and battery will offer a better speed and a long range. U3 uses Sony-made battery core, which provides a top range of up to 50 km. The maximum speed attains 18 km/h.
FOSJOAS electric self-balancing scooter U3 is equipped with a fender. This seems a tiny modification to the two-wheeled scooter. Actually, the fender is helpful to FOSJOAS U3. The speed of U3 two wheel scooter means that FOSJOAS U3 will travel faster than other models. The position of U3 as the personal SUV requires FOSJOAS U3 to pass some tough terrains, for instance, muddy and craggy paths. Especially passing through the muddy path, the muddy water tends to splash over the body. It brings about some inconveniences when the rider cleans U3. Therefore, FOSJOAS thought up an idea that they could install a fender on U3 to shield U3 from muddy water.