Triple Function of FOSJOAS Electric Self-balancing Scooters
Source:Fosjoas begin Time: 2015-09-06
FOSJOAS electric self-balancing unicycle is pretty popular with the masses on the international scale. Each year, Moben Global Inc. exports FOSJOAS over 100,000 intelligent self-balancing scooters to the overseas market, for instance, Europe, South-east Asia and South America in particular. This kind of scooter goes for the people of almost all ages. This goes to say that FOSJOAS electric scooters have an expansive customer base across the globe. Why does FOSJOAS electric scooters have an expansive customer base all over the world?
The primary reason is its recreational function. It is popularly clear that the public like riding FOSJOAS electric self-balancing scooter for fun. More often than not, some highly skilled players show off their thrilling wheelie in the streets or in the square of park. They are always successful in attracting a batch of viewers to admire their amazing riding skill.
Apart from the recreational purpose, FOSJOAS intelligent self-balancing scooter also fulfils the purpose of production or transportation. Now the modern-day works tend to apply FOSJOAS two-wheeled intelligent scooter V9 to production and transportation. The workers in one workplace usually ride FOSJOAS V9 to another workplace. The speed of FOSJOAS V9 is passable and tolerant. The speed poses no danger to workers. It is nearly impossible for the riders on FOSJOAS V9 to clash.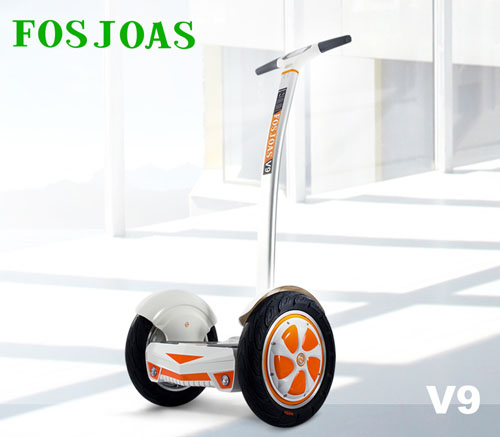 What's more, the electricity-powered FOSJOAS scooter produces no emission into the air when it operates. Therefore, it is natural to become the favourite of those hard-line environmentalists. At present, the pollution of air in the city raises the public concerns. Measures taken to moderate the pollution is much needed. The local government is shifting the responsibility to take steps to prevent the pollution. FOSJOAS self-balancing two-wheel electric scooters come is a big help to abate the pollution in the city. That is why FOSJOAS scooter is popular with the people all over the world.