Modesty of FOSJOAS Best Electric Unicycle
Source:Fosjoas begin Time: 2015-09-06
FOSJOAS was push out as the central brand of Moben Global Inc. in the year of 2010. It has been 5 years since Moben Global Inc. rolled out the first model of FOSJOAS. Through 5 years' development, FOSJOAS has successfully turned into a worldwide famous brand from a start-up brand. To sum up, FOSJOAS released three kinds of intelligent self-balancing scooters to date, i.e. the one-wheel scooter, the twin-wheeled scooter and the two-wheeled scooter. Each time FOSJOAS unveiled its new products, the new arrival all caused a sensation in the market. FOSJOAS made a splash very time. Therefore, FOSJOAS rose to fame both at home and abroad at an amazing speed. The annual sales volume of FOSJOAS exported to the oversea market attained ten thousands sets.
Faced with such great achievements, FOSJOAS has never been satisfied with the status quo. In FOSJOAS, there is no room for complacency. FOSJOAS came to prominence just in its inception. The early success tends to lead to complacency and arrogance. However, FOSJOAS has been keeping modest about its gained achievements and never abandoned itself with smugness.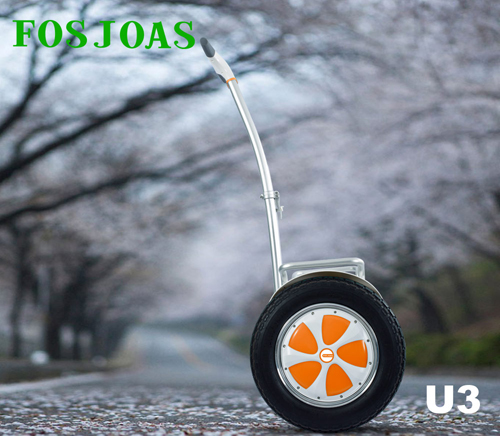 When one set of product becomes the market hit, FOSJOAS still keeps on the modification to it. FOSJOAS collects the feedbacks from the end users, both negative and positive. According to the feedbacks from the end users, FOSJOAS tends to inherit the merits and get rid of the demerits.
FOSJOAS scrambled up the zenith of its cause this year. Its design and technology culminated in FOSJOAS two-wheeled intelligent scooters V9 and U3. FOSJOAS V9 and U3 two wheel scooter are seen as innovative and revolutionary. The massive achievement leaves the end user at a loss to figure out where FOSJOAS will go. Apart from its great success, FOSJOAS remains collected and composed. It threw itself into the R & D of new product. Finally, it unveiled another revolutionary product K3. FOSJOAS K3 differs from other previous models mainly in its ability to connect it into mobile phone.