Considerate Design of FOSJOAS Intelligent Electric Balance Scooter U3
Source:Fosjoas begin Time: 2015-09-08
Moben Global Inc. has rolled out a variety of FOSJOAS intelligent self-balancing scooters. It is 5 year since Moben Global Inc. released the single-wheeled scooter V6 in the year of 2010. To meet the demand of some common scooter-lovers who are rather fond of FOSJOAS electric self-balancing scooters but unable to steer the single-wheeled self-balancing scooters V6, Moben Global Inc. pushed the twin-wheeled scooter like V3, V5 and V8. In an attempt to further enlarge the customer base, Moben Global Inc. unveiled the two-wheeled intelligent scooter. The first set of two-wheeled intelligent scooter is FOSJOAS V9. Shortly after FOSJOAS V9 gained a wide acceptance abroad, Moben Global Inc. kept the high momentum and pushed out FOSJOAS U3.
FOSJOAS two-wheeled intelligent scooter U3 share the same basic design, the exterior design and part of technology. FOSJOAS U3 models itself on FOSJOAS V9, installing the shaft on the electric self-balancing scooter. According to the feedback from the end users of FOSJOAS V9, the public unanimously thought highly of the shaft system of FOSJOAS V9. They figured that the shaft helped the manipulation of FOSJOAS V9 and turns. Therefore, FOSJOAS U3 model itself on FOSJOAS V9. At the same time, a considerate modification was made to FOSJOAS U3—the shaft was foldable. When one is to store it, he merely need fold the shaft for saving more room. That foldable design made FOSJOAS U3 fit the boot of the private car.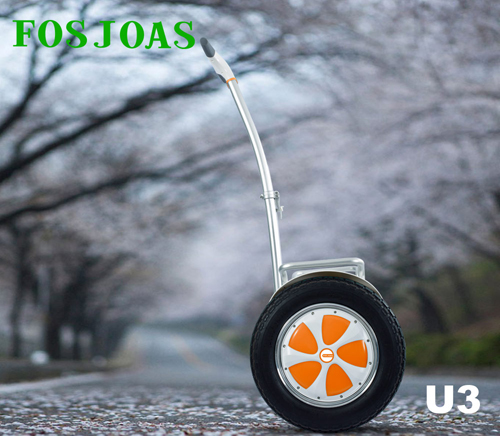 U3 is an upgraded version of FOSJOAS V9. In many of different respect, FOSJOAS U3 shows that FOSJOAS is a considerate scooter-maker. FOSJOAS U3 was positioned as the personal private SUV. That means FOSJOAS U3 two wheel scooter is able to overcome all tough terrains, for example muddy path and craggy path. When FOSJOAS U3 travels on the muddy path after rain, the mud will splash over it. In order to shield U3 from mud, a fender is installed on the font side of U3.