FOSJOAS Intelligent Self-balancing Scooter Serves the End of Entertainment and Function.
Source:Fosjoas begin Time: 2015-09-09
The present market for scooter is on a rise. The electric self-balancing scooters of various sorts sprung up overnight. FOSJOAS V6 is the ultimate in the electric one-wheel scooter. There is still the modified version of the electric single-wheeled scooters like FOSJOAS V8. In recent months, FOSJOAS has launched another breakthrough model e.g. V9, U3 and K3.
FOSJOAS intelligent self-balancing scooters are able to fulfil the two purposes. The first purpose is about the recreation and the second one is all about function. FOSJOAS V6 in the main serves the recreational purpose. FOSJOAS V9, U3 and K3 mainly meet the functional purpose.
FOSJOAS electric unicycle V6 is a classic model of agile nature and excellent speed. The single-wheeled structure is good to ensure the better agility. As for those pro players who like showing off their amazing wheelie before pedestrians, a smart and agile scooter is an outright must-have. However, this kind of electric unicycle is not an easy challenge to the common users. The upside of V6 is its agility and the downside of V6 is also its agility. In order to make up for the drawback of V6 and let more people gain access to the FOSJOAS electric intelligent scooters, FOSJOAS rolled out the twin-wheeled scooters as an efficient solution. Surely enough, the solution paid off as well as expected.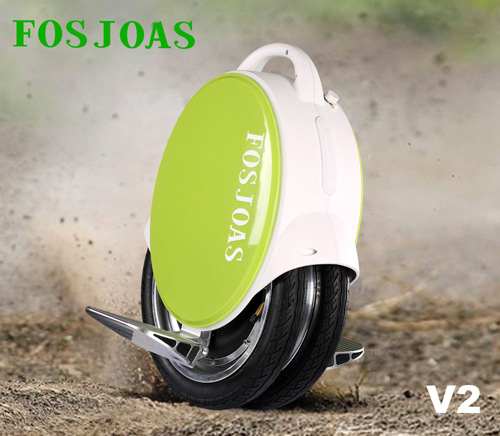 It is not enough to capture the market for recreational scooter. FOSJOAS is out to capture the market for functional and practical scooter, which is clearly evidenced by the arrival of the two-wheeled scooters. Those models are more suitable for the use as transport and the way of locomotion. It marks the shift of FOSJOAS scooter that FOSJOAS V9 entered foreign works and is applied to golf padlocks. The slowly speedy transports are highly fit to the occasion, for it will pose the slightest possibility of danger. In some international trade show, FOSJOAS two-wheel balancing electric scooter are ubiquitous.