Fosjoas Electric Scooter V9 Makes Up for Less Perfect Life
Source:Fosjoas begin Time: 2015-09-16
Everything is not going smoothly all the time, just for process of facing instant challenges, troubles, and solving them, the life is so splendid. This is not saying that brilliant life lies in annoying stuff but in the tools which help people pull through and leave unforgettable memories. The real perfect life is not encountering no troubles but full of laughter and tears.
Fosjoas two wheel electric self-balancing scooter V9 is not a kind of traditional vehicle model; for the aspect of contour, it has no tremendous difference, however, it's not hard to find that, the body line is dynamic and concise, the main color is succinct white and black, with embellishment of orange. The scooter gives people the impression of fashion and passion. The prominent black tires catch people's eyes, not mention the perfect match with vehicle body, the tires they have excellent quality. Of course, with the upgraded maglev motor, Fosjoas V9 owns powerful driving force.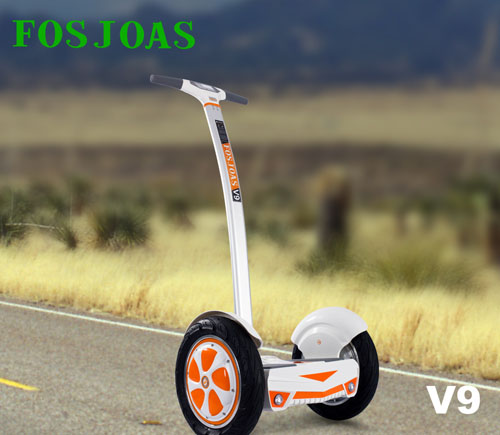 However, the point which amazes people most is not wonderful speed or high-tech multimedia it offers, but the design concept of environmental protection. In detail, the battery mounted on Fosjoas electric scooter V9 is Japan-made Sony li-ion battery core, so the emission brings non-toxic, low carbon, eco-friendly to modern society, and the battery itself has the public praise of safety enough and its lifespan reaches 3.8 times than that of other ordinary batteries. What's more, the maglev motor is super quiet, that is to say, riding Fosjoas V9 leaves no noise but green behind.
Human beings are always developing the society at the cost of pollution, while, Fosjoas two wheel self-balancing scooter moves forward one different step, which realizes the technology improvement and environmental protection at the same time. Society needs progress, environment needs protection, and Fosjoas self-balancing scooters V9 finds the balance point between them and will make people's lives more wonderful.