Fosjoas Smart Balancing Electric Unicycle is Well to Relieve Serious Traffic Jam
Source:Fosjoas begin Time: 2015-09-18
There are several different types of electric unicycle under Fosjoas. Among them, Fosjoas electric unicycle and twin-wheeled electric scooter enjoy the advantages of small size and light weight. Take Fosjoas V6 for instance. It enjoys the size of 450mm*392mm*163mm, which are height, length and thickness respectively. It can weave on the roads when many cars and motorcycles are stuck halfway during rush hours. Meanwhile, it just weighs 9.8kg and people can carry it to the bus or subway conveniently. For many demure office ladies, high-end Fosjoas sitting-posture K3 is the perfect choice, which offers stable, comfortable and elegant riding.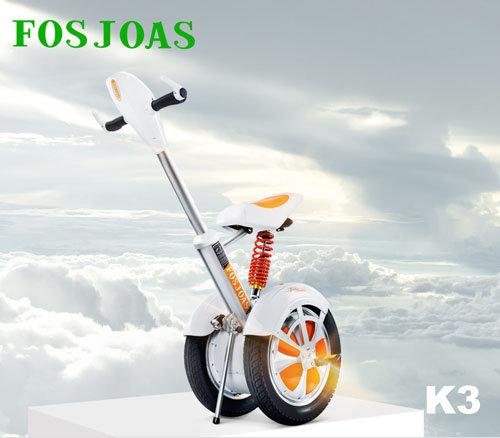 Riding Fosjoas intelligent self-balancing electric scooter is not only free, but also relaxing, because it adopts advanced intelligent chip, aerospace attitude control theory, fuzzy software algorithm and gyroscope system to realize self-balancing. If riders want to move forward or speed up, they just need to lean forward, and vice versa. In short, the controls of Fosjoas electric scooter are finished by changing body gravity.
Based on relaxing riding, people can keep enough energy to start a day's work. Riding Fosjoas electric scooter is also good to toughen body, which can sufficiently exercise muscles of four limbs and backbone. Therefore, riding Fosjoas balancing electric unicycle not only satisfies short-distance travel demands, but also improves people's physical quality. That's really killing two birds with one stone. More importantly, it can effectively relieve serious traffic jam in many big cities.