Similarities and Differences Between FOSJOAS Intelligent Self-balancing Scooter V9 and U3
Source:Fosjoas begin Time: 2015-09-23
FOSJOAS intelligent self-balancing electric unicycle V9 and U3 are the same series. Both of them fall into the two-wheeled intelligent scooters. There are many buyers who resist asking about the relationship between FOSJOAS V9 and U3.
In fact, FOSJOAS electric self-balancing scooter V9 bears much similarity to U3. They were released for the same purpose. Prior to the arrival of FOSJOAS V9 and U3, the single- and twin-wheeled self-balancing scooters predominated in the market for scooter. The two kinds of scooter cannot meet the demand of the simple scooter-lovers who have few time and patience to learn to steer FOSJOAS intelligent self-balancing scooters but are eager to have a go at them.
As a result, Moben Global Inc. developed FOSJOAS V9 and U3 and unveiled the two models this year. The two just fulfil the end of meet the demand of the common users. The two share the same design and frame. A shaft, a piece of standing board, two large wheels and a big LED display constituted the majority of bodywork of FOSJOAS V9 or U3.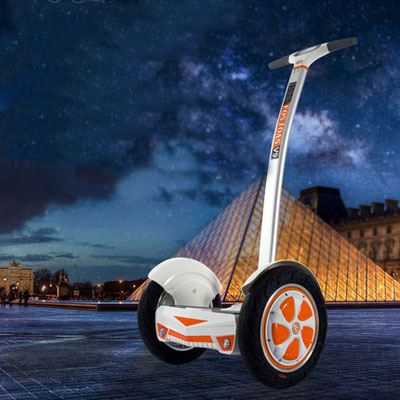 Of course, FOSJOAS U3 is hailed the modified or refined version of FOSJOAS V9. It is far from imitating FOSJOAS V9 in a simplistic way. Considerable modifications are made to FOSJOAS U3. Unlike intelligent self-balancing scooters V9, FOSJOAS U3 is equipped with a foldable shaft, which enables it to save the storage room. FOSJOAS V9 is hard to put into boot on the account of its shaft, whereas it is quite easy to put FOSJOAS U3 into boot.
FOSJOAS V9 is intended for use in the city. U3 is used for another purpose. Moben Global Inc. positioned U3 as personal AVT. As an AVT, a wing is mounted on FOSJOAS U3 to shield from it from muddy water and dust. In the process of travelling, it is unavoidable for the intelligent self-balancing scooter to pass some muddy paths. Therefore, a wing mounted U3 takes on its clear necessity and importance.