New All-terrain Vehicle (A T V)—FOSJOAS Electric Self-balancing Scooter U3
Source:Fosjoas begin Time: 2015-09-24
This year, FOSJOAS roll-out of the two self-balancing two-wheel electric scooters marked the arrival of age of the two-wheeled scooter. The two roll-outs were FOSJOAS V9 and FOSJOAS U3. (The release of FOSJOAS V9 was one month earlier than that of FOSJOAS U3.) Though the two two-wheeled intelligent scooter have much in common with each other, FOSJOAS U3 differs from V9 a lot. The differences between the two involve the design, frame and position.
Apart from the design and frame, the most difference between FOSJOAS V9 and U3 lies in the position. Unlike V9, FOSJOAS intelligent self-balancing scooter U3 is position as the personal all-terrain vehicle (A T V), whereas FOSJOAS electric self-balancing scooter V9 as the personal transport in the city. Compared with V9, FOSJOAS U3 is equipped with the larger wheels enable it to overcome more terrains and negotiate more complex paths. Plus the more potent battery offers a range longer than V9. That battery makes a reality the long-distance trip. V9 is normally used in the city or some paddocks. However, FOSJOAS U3 is born to travel on the tough path. The tough exterior looks of FOSJOAS U3 shows its fortitude and valour to good advantage.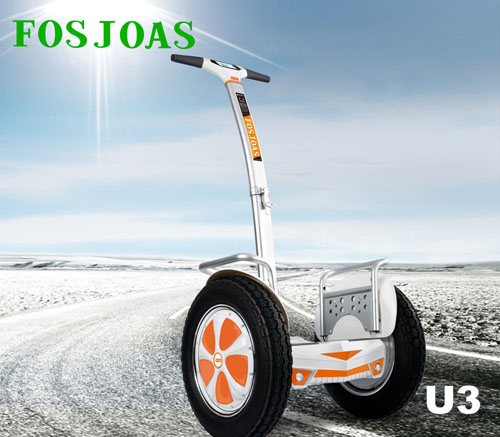 More importantly, a considerate design is given to FOSJOAS U3. Considering the fact that FOSJOAS U3 generally pass some tough paths including the muddy path, the muddy water is highly likely splash over FOSJOAS U3. Once FOSJOAS U3 two-wheel electric unicycle is stained with muddy water, U3 will looks dirty. What's worse, the muddy water will damage the inner parts or scale back the performance. That is what the owner do not expect. In order to rule out the possibility, a wing is mounted on FOSJOAS U3, which serves as a protection for FOSJOAS U3. That works as a guardian of U3 when U3 scoots about on the muddy paths.