Fosjoas Self-balancing Scooter K3 Subverts Tradition in the Sector
Source:Fosjoas begin Time: 2015-09-28
Nowadays, the electric self-balancing unicycle in the market are designed with standing posture, making riders feel tired after long range, especially for the seniors. Fosjoas electric scooter K3's original sitting posture design subverts the tradition and opens a niche market in the sector. With operation by hands, feet and hip, the riding becomes much more comfortable and relaxing. Most young women will find it easier and safer to ride the scooter. Therefore, it is a good tool for going to work or back home and starting a journey.
In addition to the change of way of riding, Fosjoas K3 has made much technological improvement. The first is the original electronic brake system, which replaces the traditional mechanical drive system. This makes braking instant, accurate and safe. The stopping response time is limited to 0.5 seconds and the stopping distance is only 50cm with the body tilting angle less than 10°.
The next breakthrough is its original hydraulic suspension design which ensures agile response and steady operation. It inherits from hydraulic shock absorption system of professional SUV motorcycle and improves hydraulic pressure according to the road conditions in the city. Even if the electric scooter runs across the rugged and bumpy roads, the riders will not feel discomfortable. Also the elastic condition of the spring can be adjusted according to the needs of the customer.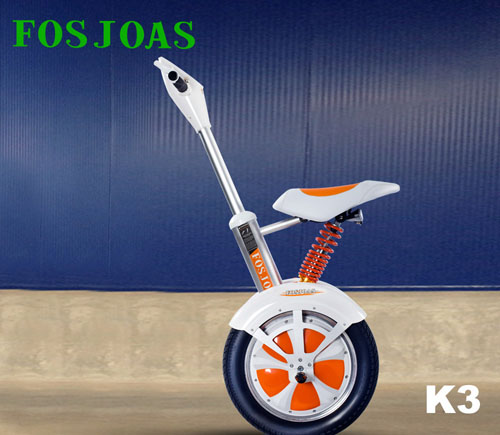 Besides, Fosjoas K3 two-wheel electric unicycle makes innovative attempt at automatic steering-sensor system in accordance with the international standards. Iridescent lights are installed to give the rider full personality and pulse notification. Also, the lights ensure a safe riding at night.
Another shining point is that the rider can be connected with the scooter through App to learn about the real-time data and monitor the condition of the electric scooter and the rider. Also the scooter can be locked by App to achieve intelligent anti-theft function.
All of these innovative designs cannot live without the Fosjoas' endless pursuit for excellence and strong commitment to satisfy the customer need. Fosjoas is bound to herald a promising future in the sector.