The Green World Given by Fosjoas V9 Personal Self-balancing Electric Scooter
Source:Fosjoas begin Time: 2015-09-30
Abstract: Green riding is not just a slogan, it is the awareness the more and more people realize, with the combination of environment protection, Fosjoas electric scooter V9 amazed the public on its debut.
Environment protection has been the world's eye-catching issue, even the improvement of society should put environment in the important place. To respond for this call enthusiastically, developers apply the environment friendly idea in Fosjoas two wheel personal self-balancing electric scooter V9, so that the scooter gets the reputation of green high-tech product.
Generally speaking, the Fosjoas electric scooter V9 is the vehicle with no-emission, so it reduces the tail gas pollution from the source. The power is offered by the maglev motor mounted on Fosjoas V9, with the improvement, the motor itself is much smaller than normal ones, besides, it is super quiet, at the aspect of environment protection, it does make great contributions to noise pollution reduction. The battery installed in Fosjoas two wheel electric scooter is Japan-made Lithium-ion battery core, which has much longer lifespan and the service time and can be rechargeable for 3000-4000 times.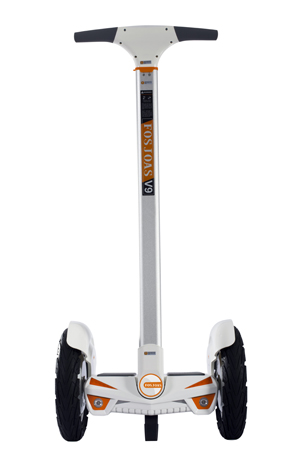 Apart from its high performance, the safety itself gets popular approval, with features of no-burning and no-exploding, it rules out people's worry thoroughly. The max speed of Fosjoas V9 reaches 18km/h, while, to prevent injuries caused by speeding, the protecting measures will be done at different periods, for example, if the speed exceeds 16km/h, the front end of pedal will rise gradually, and the pedal will pose a 10°angle to the leveling surface, which stop riders inclining further to accelerate.
Travel green is the healthy travel way for riders. When people enjoy the beautiful landscape given by nature, they should maintain its original appearance. What Fosjoas V9 two-wheel electric unicycle focuses is not only improvement of technology, but also of views and values of people, the green world need to be protected by everyone.