Fosjoas Electric Self-balancing Unicycle V2 Resembles a Fair Lady
Source:Fosjoas begin Time: 2015-10-06
Unlike the wild look of the two-wheel electric scooters, Fosjoas twin-wheel intelligent scooter V2 amazes the rider at first sight with its elegance and delicacy, like a pretty lady.
Fosjoas V2 wears light and customized clothes with soft color such as azure blue and lime green, etc. which looks very charming. She has a slim and dashing figure with the size of 530*373*185mm and is easy to carry or park. Her feet, round-shaped aluminum-made pedals, are in good shape with smooth edges to protect the rider's ankles from scrapes. Embellishment makes her look more graceful. The shiny LED lights in front of her body look sleek and smart, thus leaving a deep first impression on others. No wonder there are so many followers wooing her.
In addition to her attractive figure, Fosjoas V2 has a good character. She cares for others and tries her best to protect her friends. Her optimum safety measures include speed control, tilting protection, low battery protection and warning. First, when the speed exceeds 12km/h, the front end of the pedal will rise gradually and when the speed exceeds 16km/h, the pedal will pose a 10°angle to the leveling surface, which stops the rider from inclining further to accelerate.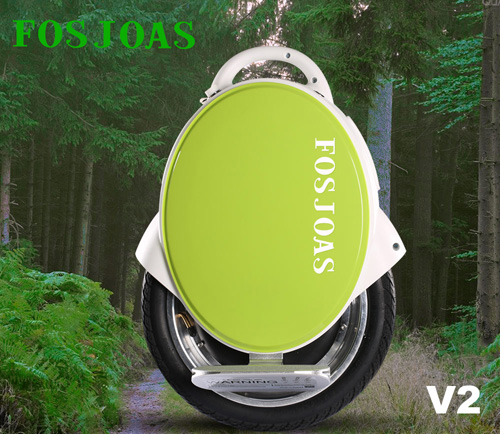 Second, when Fosjoas turns over, the control system will activate tilting protection and then the motor will stall immediately to prevent injuries. Third, when power level falls lower than 15%, all four lights will blink and the buzzer will beep. The front end of the Pedal will sink to force the rider to decelerate till stop. Finally, the buzzer will launch beeps and the lights will flash when the protection measures are activated to caution the rider.
Besides, Fosjoas V2 two-wheel balancing electric scooter focuses on working efficiency. She is equipped with Sony Li-ion Battery featuring 1800 recharge times. Her life expectancy and duration is 3.8 times and 2.9 times higher than that of ordinary lithium battery respectively. Meanwhile, it takes 80 minutes to get 80% full charge.
Fosjoas self-balancing electric scooter V2 deserves the attention of the customer with her dashing figure, good character and working efficiency.