Tips for Parents to Protect Kids When Owning a Fosjoas K3 Electric Unicycle
Source:Fosjoas begin Time: 2015-10-07
Driving the electric unicycle on the road can be hazardous, so parents should check the road condition before allowing kids to ride it. A safer option is cycle paths, parks or gardens, which is safer and larger. A good quality scooter can handle all terrains. Kids love zipping around the neighborhood or up and down the driveway on a scooter. Check the condition of neighborhood and the driveway too before kids riding on the scooter. Fosjoas K3 utilizes Cheng Shin tyre with larger contact area which can be ridden on any kinds of terrains. This enables kids to ride easily and safely.
The electric scooters are rechargeable, the lithium battery is powerful and of quick charge. When charging the self-balancing electric scooter, keep kids far away from the scooter in case of electric shock. Fosjoas K3 usually takes 2 hours to charge fully, parents should be careful to protect their kids during the process of charging. Speeds and energy consumption can vary. A full charge can take up to 16 hours and run for hours. The other option parents need to think about is whether they choose a folding scooter and or a stand up or sit down model.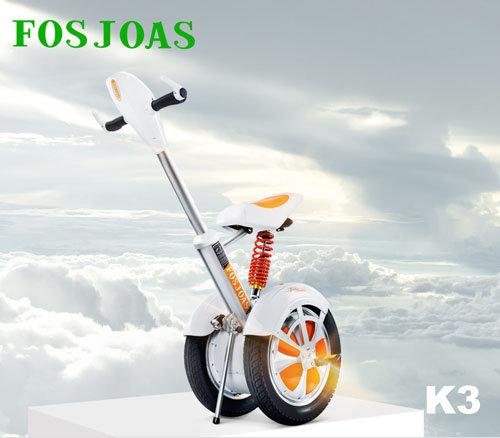 It is batter for parents to choose Fosjoas K3 self-balancing electric unicycle, a model with a saddle. Smaller or younger children may be more comfortable on a seated scooter. Besides, sitting on the saddle is more easily to keep balance than standing on the pedals. With the saddle, the percentage of accidents or injuries will be reduced to the most extent. Besides, the two-wheeled electric scooter will not produce any emission or pollution which will harm the lungs of kids. So Fosjoas K3 is the creative gift for responsible parents to buy for their kids.