Fosjoas U3 Electric Self-balancing Unicycle Is The Best Partner of SUV
Source:Fosjoas begin Time: 2015-10-09
Lots of young people ardently love various adventures from the nature. For example, they love to challenge the untraveled desert. Generally speaking, SUV is always their first choice, because those untraveled places are often far away from the city. However, when people get to the destination, they may be stuck by some narrow and rough road conditions. At this moment, they especially need a type of small-sized SUV. The Fosjoas U3 self-balancing electric scooter can serve as such a small-sized SUV perfectly.
Actually, Fosjoas U3 is highly praised as the exclusive SUV electric scooter, because it is designed for off-road activities. First of all, the adopted two16-inch Cheng Shin tyres benefit the cross-country property a lot. In order to adapt to all kinds of difficult road conditions, the tyres of U3 are designed wider and thicker. Then, there is bigger contact surface between tyres and ground, which paves the way for stronger road holding capability and batter adaptability to rugged roads. Meanwhile, like other Fosjoas self-balancing scooters, the self-balancing of U3 is realized by adopted aerospace attitude control theory, fuzzy software algorithm and gyroscope system. Therefore, even riding U3 on the bumpy roads and for a long time won't make riders exhausted at all. In addition, Fosjoas U3 is equipped with 680WH SONY lithium-ion battery, which makes sure longer working life and range. The maximum range of U3 is as long as 50km, which supports long-distance travel.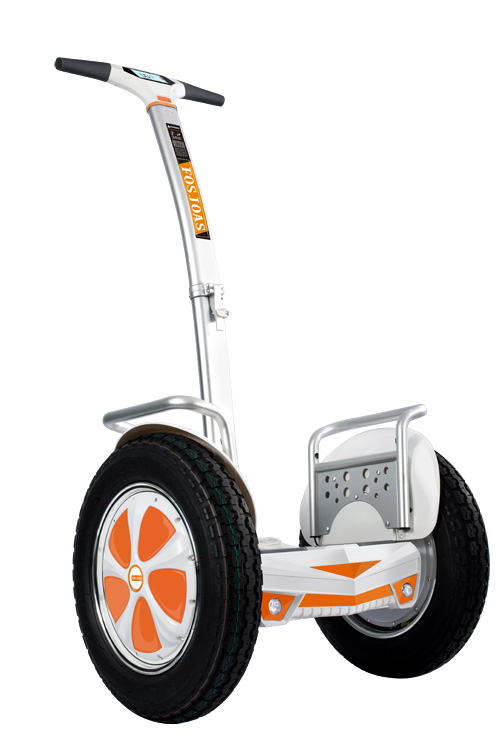 The last but not the least, the installed aluminum alloy control shaft is foldable. That is to say, Fosjoas U3 SUV scooter can be folded and put in the trunk easily. Fosjoas U3 two wheel scooter can't completely replace the role of SUV, but it can be the best and indispensable partner of SUV. The team of SUV and U3 will make the cross-country more perfect.