Fosjoas Sitting-Posture K3 is the New Start in Intelligent Self-Balancing Electric Scooter Sector
Source:Fosjoas begin Time: 2015-10-15
Just as its name implies, the sitting-posture riding mode is one of outstanding features. Traditionally, the standing-posture riding mode is widely adopted by self-balancing electric unicycle. However, it makes riders exhausted if riding for long time and long distance. Then, Fosjoas R&D team has broken the tradition and designed K3 into sitting-posture. Sitting-posture not only offers stable and comfortable riding, but also paves the way for long-distance travels.
Electronic brake system is a brand-new technological breakthrough. It aims at guaranteeing the personal safety when braking to the largest extent. Compared with braking by leaning backward, electronic brake system offers a strong and quick brake with a 50mm stopping distance. Meanwhile, the braking operation is quite easy. Riders can press the brake button beside the display screen if necessary. Hydraulic suspension system also embodies the innovation of Fosjoas K3, which is installed under the leather saddle and aims at absorbing impact so as to make sure steady riding.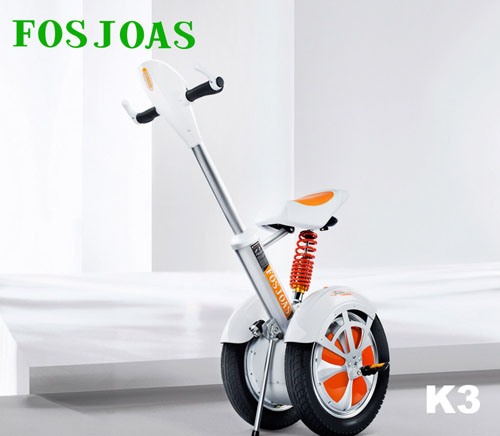 An exclusively-designed APP of Fosjoas K3 two-wheel electric unicycle is one of the most obvious highlights. The APP can be downloaded from official website and installed in the phone. Then, K3 and phone have been connected. That is to say, many controls of K3, such as reading real-time speed, mileage, temperature or remaining battery, turning on or off the lights, locking or unlocking the scooter, or GPS, can be finished via APP in the phone directly. K3 enjoys so many innovative breakthroughs and it lives up to the title of "new star" in electric scooter world.