Fashionable Girls' Best Partners - Fosjoas Intelligent Sitting-posture Self-balancing Scooter K3
Source:Fosjoas begin Time: 2015-10-23
Combining the top designers' creative essence with fashionable elements, Fosjoas self-balancing scooters K3 seem to be perfect. It used the bright colors of white, silver and orange. And the synthetic resin shells of Fosjoas K3 are made up of advanced aircraft-grade nano-material. Hence, K3 appear energetic and high-end. All the details of K3 are exquisite.
What's the biggest difference of K3 from other Fosjoas electric scooters? The answer is the sitting system. Some users had complained that it was so tired to have long-distance trips on self-balancing scooters. Then Fosjoas sitting-posture scooters K3 came out. They help riders to go out more convenient and fashionable. Besides, some high technologies, such as the hydraulic suspension and electronic brake system, were applied to K3. The hydraulic suspension helps riders to sit on K3 more comfortable, while the electronic brake system makes the trip with K3 safer. In addition, Fosjoas K3 has a dedicated APP. After installing the APP into phone, K3 can be connected to it by phone. According to one's likes and habits, the speed of K3 can be adjusted by APP. At any time, riders can monitor data and riding conditions of it.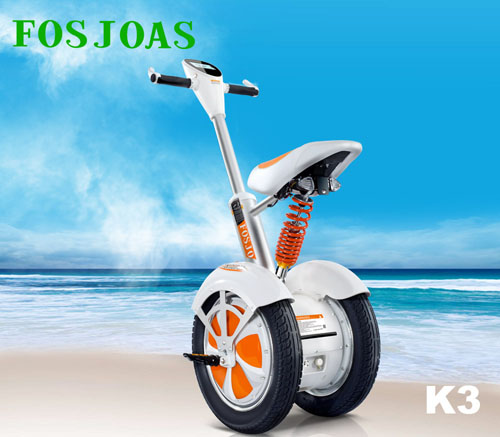 When a fashionable girl wears high-heeled shoes and pretty dress, obviously it is more elegant for her to sit on K3 than to stand. If she wants to have some exercises, she can also stand up to control the scooters. Anyway, Fosjoas two-wheel electric scooters K3 can help girls keep fit and become the fashionable sight on the street.