Ride Fosjoas V9 Self-Balancing Electric Unicycle, Listen to Melodious Music
Source:Fosjoas begin Time: 2015-10-30
Fosjoas is one of the leading intelligent self-balancing electric scooter brands and it has many different types of scooters.
More and more people realize the advantages of Fosjoas electric unicycle and apply them to their daily life. The following would like to share Fosjoas V9 with the masses. It not only facilitates people's life, but also opens a fresh lifestyle.
Compared with Fosjoas electric unicycles and twin-wheeled electric scooters, the two-wheeled design of V9 paves the way for more stable and comfortable riding experience. Meanwhile, it is equipped with an aluminum alloy handle that supports users during the riding course. On the top of handle, it is a 4-inch LED displayer, which clearly shows the real-time states of Fosjoas V9, such as current speed, remaining battery, outdoor temperature or total mileage and so on. In order to make sure worry-free travel, Fosjoas V9 adopts 520Wh SONY lithium-ion battery that sustains the maximum range of 45km. Such a range also makes long-distance travel be possible. In addition, it is a good idea if riding Fosjoas V9 to take a trip on weekends.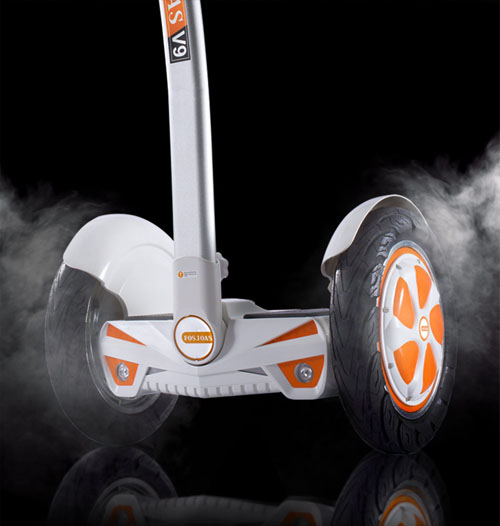 Fulfilling the task of travel is not the only mission of Fosjoas V9 two wheel electric scooter. Its ultimate goal is to make people's travels more joyful and relaxing. Therefore, Fosjoas R&D team has designed a big sound chamber for V9. What is more, based on the advanced technique, the sound effect of V9 is as good as that of sound-recording studio. How can Fosjoas V9 play music? Actually, it is very easy. Fosjoas V9 itself can play music, but it can be connected with the phone via Bluetooth. Then, it can play songs in the phone. Briefly speaking, people can use the perfect sound effect of V9 to enjoy the loved songs in their phones. Fosjoas V9 tells people that travel and music are best partners.