Fosjoas K1 is More Than an Electric Skateboard
Source:Fosjoas begin Time: 2015-10-30
Recently, Fosjoas, the leader in intelligent self-balancing scooter sector, has released a brand-new scooter type-K1 electric skateboard.
Just as its name implies, Fosjoas K1 is an upgraded skateboard on the basis of traditional concept. However, Fosjoas two-wheel electric self-balancing scooter makes K1 more than an electric skateboard and it is also a good helper in people's life.
Different from ordinary skateboards, the self-balancing of Fosjoas k1 electric skateboard is realized by join forces of aerospace attitude control theory, fuzzy software algorithm and gyroscope system. Then, skateboarders can finish all controls, including speeding up, slowing down, braking and turning left or right, by slightly changing body gravity. Actually, that is generality of all Fosjoas electric scooters, which is helpful to free physical strength and thus makes riding relaxing. The adopted four Cheng Shin tyres enjoy much better skid resistance and strong grip capability.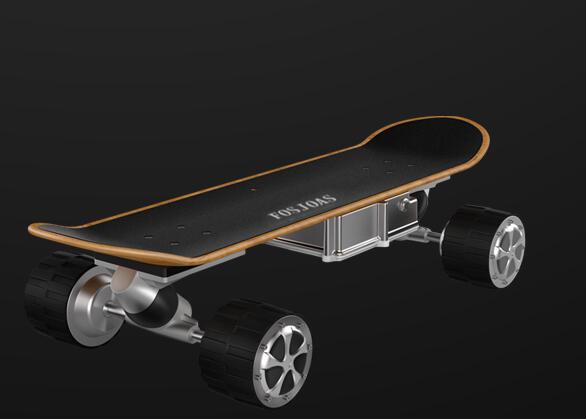 In order to guarantee comfortable, stable and smooth skating, both the front and rear wheels are equipped with high-elasticity PU damping blocks. In addition, Fosjoas K1 motorized skateboard adopts advanced SONY lithium-ion battery that supports the maximum range of 20km. The range can cover lots of travel demands in daily life, such as a vehicle for trip on weekends, a transport for students to go to school, a tool for young boys to weave in high streets and back lanes, an equipment to take exercise or a plaything for kids. Therefore, it is more than an electric skateboard.
More importantly, Fosjoas K1 motorized skateboard is also equipped with a wireless variable speed remote control, which lets users to control it more easily. Besides, the board of Fosjoas K1 wireless remote control skateboard is fully hand-made by professional designer, which is non-deformation. In the meantime, the optional and customized patterns make Fosjoas electric self-balancing unicycle K1 individual and novel. In the near future, Fosjoas K1 must be the favorite of people from all age groups.