Eye-catching Auxiliary Tool for Fruitful Sales Promotion Campaign-Fosjoas Two Wheel Self Balancing Scooter V9
Source:Fosjoas begin Time: 2015-11-03
As a new means of transportation, Fosjoas V9 easily attracts the eye of the passers-by due to its stylish figure and convenient operation.
Faced with the fierce market competition, an increasing number of companies carry out sales promotion campaigns to enhance the brand image and attract potential customers, thus increasing sales revenue. Differentiation strategy is used to leave a deep impression of the customers and stimulate their shopping desire. Fosjoas V9 two wheel self balancing scooter enjoys great popularity among the marketers to serve as the assistive tool for the campaign.
Unlike traditional propaganda in a fixed place, Fosjoas self-balancing two-wheel scooter can take the salesmen to any place they'd like to go in constant motion, therefore, it can attract more passers-by.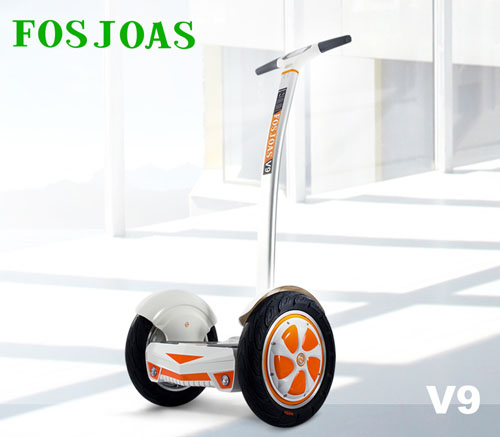 Besides, unlike the ordinary vehicle, Fosjoas self-balancing electric scooter V9 is designed with chic outlook and the philosophy of minimalism, like fresh breeze blowing around, attracting the attention of the potential buyers. Embedded with geometric pattern and featuring streamlined contour, Fosjoas V9 integrates artistic and fashion so it is pleasing to the eye. Made of high-quality aluminum alloy, its frame is glossy and shining especially under the spotlight. The salesman can also dress up like the superstar in the movie or cartoon such as the spider-man, Captain America and Baymax, etc. to make the customers feel close and surprised, which will in turn draw their attention to the product.
Easy and labor-saving operation of Fosjoas self-balancing intelligent scooter V9 increases the working efficiency and facilitates the promotion campaign. Thanks to its built-in automatic intelligent system and based on the principle of dynamic stabilization, the rider can totally control Fosjoas two-wheel electric self-balancing scooter V9 with the body movement. For example, he could accelerate or decelerate by leaning forward or backward. Therefore, it does not take extra energy to rider the scooter. Also, the handlebar of Fosjoas V9 is ergonomic-designed and feels comfortable. All of these delicate designs boost efficiency to make the promotion campaign fruitful.