Have Short-distance Trips with Fosjoas Intelligent Self-balancing Electric Unicycle
Source:Fosjoas begin Time: 2015-11-06
At present, travel is very popular in cities. Citizens are busy with work in weekdays. So they often go out to find beautiful sceneries at weekends. In fact, travel is always tiring.
If travelers own Fosjoas self-balancing electric unicycle, they can have short-distance trips and enjoy themselves.
Although some people live in a city, they don't understand it well. They are so busy that they don't have time to appreciate it. Most of time, citizens ignore it, or even complain about it. But when they are riding Fosjoas intelligent unicycles in the city, they may find some great scenery they have ever seen before. Starting from tomorrow, taking away from cell phones and virtual networking, riding Fosjoas unicycles, users will find that happiness and beauty are at their fingertips.
Fosjoas self-balancing unicycles are technological vehicles of new age. A Fosjoas electric scooter is not like a car, instead of enclosing users in a narrow and isolated space, it helps cross the streets more freely. With the help of intelligent scooter, users can have a mystery tour in the city just as an adventure they had at home when they were kids.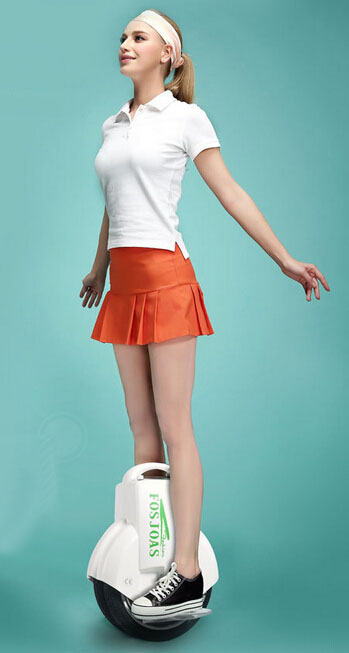 What's more, the quality and performance of Fosjoas unicycles are quite good. Fosjoas industrial designers chose original Sony lithium batteries, famous Cheng Shin tyres and resin shells which are made of advanced nano-materials. In addition, there is one smart chip in a Fosjoas one-wheeled scooter. The inside smart chip had aerospace attitude control theory, fuzzy software algorithm and gyroscope system to realize self-balancing. Users can easily control Fosjoas scooter by twisting their bodies. Another big characteristic of Fosjoas scooters is the small size. They are so small and light that users can put them into bags and take to offices, shopping malls or public vehicles.
Many citizens complain that life is stressful. But they will have a good time if they ask some friends and ride Fosjoas electric unicycle to have trips in the city.