Fosjoas U1 mini electric unicycle, New Way for Santa Clause to distribute Gift
Source:Fosjoas begin Time: 2015-11-21
In the past, Santa Clause always sleighs ride on the snowy road to give out gifts for kids, for Jim, a part-time "Santa Clause", it is almost impossible due to the busy traffic. Jim should give out gifts for kids of a block from his company during the Christmas, so he is troubled with the choice of transport. He cannot afford an automobile and the vehicle will lose the atmosphere of Christmas.
Fosjoas U1 two wheel self balancing scooter, the electric scooter can take Santa Clause around with pack of gifts.
Fosjoas is the latest model with saddle, for riders they can sit on the saddle rather than long-time standing. This innovative design can save the energy of Jim since he must carry a large bag which is heavy. The self-balancing electric scooter is made of PC material to resist water, scratches and chemical corrosion. As a result, Jim can keep the shiny white color of Fosjoas U1 which can match the decoration of Santa Clause.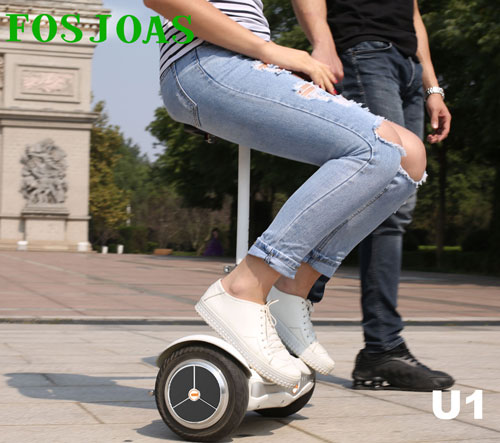 Inside the two-wheeled electric scooter, the imported lithium batteries are inserted to guarantee the power. The life expectancy of the battery is 3.5 times longer than the original battery. It also sets double battery protection boards, if one board is invalid, the speed of Fosjoas U1 will slow down gradually to ensure the safety. The motor is made of well-known N45 magnetic steel which makes the operating power increase by 50% and the electric consumption will be saved for longer riding.
Jim can play Santa Clause relaxed since Fosjoas U1 mini electric unicycle can save him a lot of energy and time. Besides, Fosjoas U1 can keep its riders from potential dangers such as sudden turnover or over speed. In this Christmas, maybe a large number of Santa Clause will appear on the street riding the electric scooter to give gifts to children. They can cover more kids and bring much joy to those lovely kids.