Fosjoas K2 Two Wheel Electric Scooter Unicycle, The Most Suitable Transport for Christmas Parade
Source:Fosjoas begin Time: 2015-11-26
Participate in Christmas parade by foot is the tradition of many parts around the world. Though walk in coldness or with snow is sometimes hard, people still insist on the parade to express their emotions. Fosjoas K2 two wheel electric scooter unicycle can replace walking since it is a green and low carbon way of travel. The electric scooter is of small size taking up only 0.5 meter squares which is easy to pick. So people can ride Fosjoas K2 as a line to celebrate the great festival.
The imported lithium battery of Fosjoas K2 is equipped upper than the general scooter so the battery will not be damaged by rain, snow or other weather condition. Besides, the battery can also be changed easily in case of the lack of electric quantity. The magnesium alloy material is solid enough to load the adult and light enough for people to pick up. The shiny color will add the charms and people can decorate the self-balancing electric scooter to foil the atmosphere of Christmas.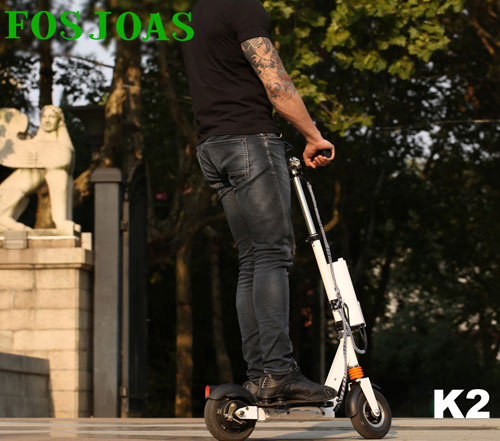 Fosjoas K2 is also foldable. It can be put into the trunk of a car easily. As a result, people can ride the two-wheeled electric scooter in the parade. When the parade ends, they can just hold it or put it into trunk to enjoy their Christmas without any disturbance. The light weight ensures Fosjoas K2 will not be the burden to carry even for teenagers or females. How convenient and portable the scooter is!
In order to assume riding Fosjoas K2 intelligent cheap electric unicycle to form a square formation, all the participants wearing the same costume and decorations, the parade must be more interesting and eye-catching. Christmas is coming! Just own a Fosjoas K2 to enjoy the Christmas. Apart from the parade, family members can also ride the electric scooter to enjoy the snowy scenes or take part in some activities. Fosjoas K2 will strengthen the sense of participation of every user.