The Latest Fosjoas Two-wheeled Intelligent Scooters, U1
Source:Fosjoas begin Time: 2015-11-27
Many modern people like Fosjoas two wheel self balancing scooter very much. They can not only become users' private high-end transport tools, but also bring them a convenient lifestyle. To satisfy users' needs, Moben Intl Co., Limited launched the mini electric scooters U1 on Sep 29th, 2015. As the name suggests, they are smaller than other 2-wheeled products. However, they are smarter, integrated with high technologies. The latest model U1 will bring users the most advanced travelling experiences.
Fosjoas mini intelligent scooters U1 inherit the two-wheeled structure of the former 2-wheeled models. The difference is that it doesn't have a joystick. Instead, U1 has an adjustable seat, which is made of aircraft-grade aluminum alloy materials. It is such a humanized design that the seat can be adjusted according to users' heights. And the leather seat cushion makes users' sitting more comfortable. What's more, the wheels of Fosjoas U1 are much smaller than other scooters. The size is 8-inch. So they occupy less space. Users can get through any roads, even narrow corridors with Fosjoas U1, not to mention the traffic jams. They can ride freely on the streets in cities.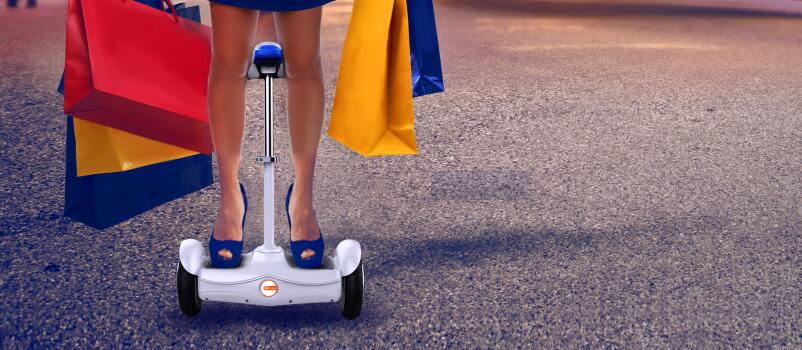 In addition, the design of dual cores and double battery protection boards is put into Fosjoas sitting-posture scooters U1. When one battery board can't work, the other one will make the scooter slow down to ensure the safety. Fosjoas has continued to use the original Sony lithium battery, which is safer and greener than ordinary battery. The most joyful point for users is that the lithium battery has longer lifetime and can keep users ride a long distance.
Fosjoas mini scooters U1 are the latest two-wheel electric self-balancing scooter in the new age. They are even equipped with wireless remote controls. Users can easily control the scooters by wireless remote controls. It isn't a dream for users to go out by sitting on a comfortable seat and operating the wireless remote controls.