FOSJOAS Electric Self-balancing Scooters Add Spice To Life
Source:Fosjoas begin Time: 2015-12-03
It is quite obvious that the electric self-balancing scooters are altering our life bit by bit.
Just because of FOSJOAS intelligent self-balancing scooter, out life is turning more beautiful and convenient. The previous air quality was quite serious. Now the air quality in the city made a great progress. Years ago, the traffic in the city was fairly crowded, whereas the current traffic is rather smooth. This progress and stride as improvement cannot go without FOSJOAS intelligent self-balancing scooter.
First of all, FOSJOAS electric self-balancing scooter is convenient to life. FOSJOAS electric self-balancing scooter is compact and delicate. Any one, whether male or female, can lift it by hand. Even if he is a child, one could still carry it himself. At the same time, the small size enables it to fit a small space. The motorist could put it into his boot. Some models like U3 and K2 can pack away. The foldable function further makes FOSJOAS electric self-balancing scooter smaller.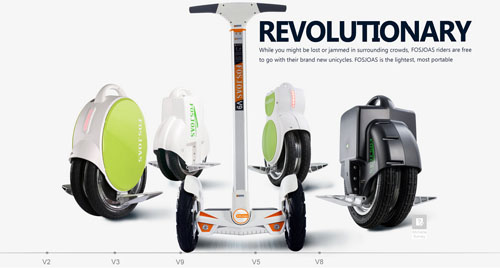 As long as the owner wants to use it, he could carry it from warehouse and take it into the lift. After he arrived on the ground, it can be used at once. If he chooses to steer the private car, he has to go downstairs to the garage and drive his car out of the garage. It will take some time to find his own car and when he comes back, he also need look for parking lot. It is a veritable effort.
On the other hand, FOSJOAS one-wheel electric scooter serve as an outlet to work out. Each day, those who own electric scooters could ride them go home. The ride on FOSJOAS electric scooter will go a long way toward building up the body and relaxing the pent-up mind. For the most part, city dwellers are undertaking sedentary job with no space and time to exercise. Using FOSJOAS electric scooter as personal transport, the rider could grasp the commute time to work out and keep shape.