Story about Tony's buying FOSJOAS electric skateboard K1
Source:Fosjoas begin Time: 2015-12-07
It is well-know that Moben Global Inc. pushed out one model-FOSJOAS electric skateboard K1. This newly released model came under the limelight soon. Less than one month after FOSJOAS K1 self-balancing electric unicycle was exported into oversea market in gross, the scooter-lovers all over the world were eagerly to buy it online or in the brick and mortar stores.
Tony is an energetic boy aged 13. Most of his friend are youngsters who aged 12 to 14. All of them are into everything new and interesting. Therefore, the advent of FOSJOAS electric skateboard K1 naturally raised their attention. A good many friends of Tony has bought K1 online before long. In addition, they got steering K1 in the streets or park squares days ago. This phenomenal, of course, was spotted by Tony. Tony was curious about FOSJOAS K1 for he often heard of the public discussion of FOSJOAS electric self-balancing scooter K1 on the part of his friends. With the passage of days, Tony showed a strong interest in it.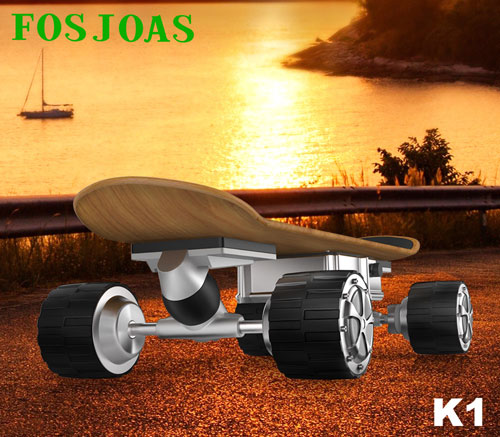 Tony's intense interest in FOSJOAS K1 came to the knowledge of his friends. His friends strongly recommend him to buy it online. They spoke of the fun by riding this model. They added that this model was absolutely different from the traditional skateboard. It is powered by a battery group, so the ride must be easy and effortless. At the same time, the wireless controller gives an opportunity to the rider and the rider can control the skateboard via controller, even if ten metres away from their devices.
Nobody can resist the temptation of FOSJOAS intelligent self-balancing scooter K1. At that night, Tony placed an order for FOSJOAS K1 cheap electric skateboard and swiftly paid online. Before the order arrived at his house, he spent several days on waiting for it to arrive. These days, numerous models of FOSJOAS K1 have been exported into overseas, thereby it is available online. There is no need to worry about it would be out of stock.