Fosjoas K2 Two-Wheeled Electric Unicycle Escorts for People's Travel
Source:Fosjoas begin Time: 2015-12-09
Fosjoas K2 two-wheeled electric unicycle is the new arrival. Based on riding safety, wide applications and strong performance, it has gained great support from consumers. With the escort of Fosjoas K2 two wheel self-balancing electric scooter, people's travel will be light-hearted. Then, the following is willing to share why it can give people a safe and relaxing travel.
It is easy to recognize that the electric scooters published on recent new product release conference are adopted small-size Cheng Shin tyres. Fosjoas K2 2-wheel scooter is also equipped with two 8-inch Cheng Shin tyres, which are small but very powerful. Moreover, these two tyres enjoy much stronger road holding ability and better wearability, which is the reason why Fosjoas K2 scooter is suitable for all road conditions. Different from other electric scooters that adopt built-in battery, Fosjoas K2 scooter uses up-equipped battery unit. Such an innovation helps it to run on rainy or snowy roads at ease. Thus, it is also fit for all weather conditions.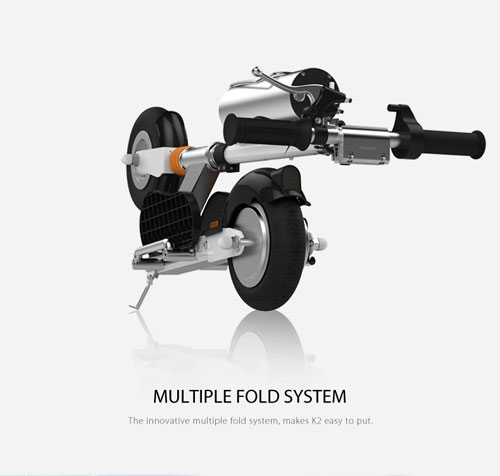 Although Fosjoas K2 electric self-balancing scooter still adopts standing-posture riding mode, the front-standing design and matting pedals ensure stable and comfortable riding experience. In addition, the multiple folding systems are the highlight of Fosjoas K2 electric scooter. Then, it can be folded into a very small figure and easily put in some small spaces, like trunk. In other words, it is like a bridge between driving a car and walking.
Some days later, the warmest festivals-Christmas Day will come to us. At that time, travel needs will be soaring. People need to go shopping and prepare for the Christmas. They also will attend family or friend's party every day. The function of Fosjoas K2 two wheel electric scooter will be much more obvious. People not only can avoid the traffic jam and get to the destination safely, but also will enjoy a totally different travel experience.