Fosjoas K2 2-Wheeled Electric Scooter Reduces Work Pressure for Designated Drivers
Source:Fosjoas begin Time: 2015-12-11
Designated driving is more and more booming as the traffic rules are much stricter and the law consciousness of people is more perfect than before. At the same time, such a business creates many jobs for people. Previously, designated drivers rely on walking or taking taxi on the way to meet different clients. However, walking for a long time makes them fatigued, while taking taxi will decrease their income. The advent of Fosjoas K2 2-wheeled self-balancing scooters is the blessing to those designated drivers. Nowadays, it is frequently-seen that a designated driver is driving Fosjoas K2 2-wheeled electric scooter on street. From his expression, he is so enjoyable.
How can designated drivers handle Fosjoas K2 electric scooter when they drive their client home? Many people are curious about this part. In fact, there is an easy solution: just put it in the truck, which mainly benefits from its multiple folding systems. Then, it can be folded into a small figure and put in the trunk conveniently. Meanwhile, Fosjoas K2 electric scooter also offers very comfortable and relaxing riding experience and it won't make designated drivers fatigued even continuously riding for several hours.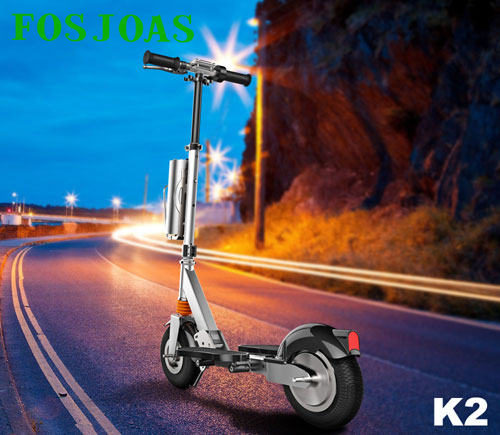 On the one hand, it is based on aerospace attitude control theory, fuzzy software algorithm and gyroscope system to realize self-balancing. Briefly speaking, all controls, like advancing, accelerating, decelerating and steering, can be easily finished by slightly changing body gravity. For instance, leaning forward will accelerate Fosjoas K2 scooter, while leaning backward will decelerate it. On the other hand, the matting pedals and front-standing riding posture guarantee the stable and comfortable riding experience.
With the help of Fosjoas K2 self-balancing electric scooter, the work pressure of designated drivers is reduced greatly. Besides, it can avoid traffic jam and thus help designated drivers get to the destination punctually. All in all, Fosjoas K2 cheap electric unicycle can relieve mental and physical stress for designated drivers.