Fosjoas K1 Motorized Skateboard Makes the Upcoming Christmas Day More Exciting
Source:Fosjoas begin Time: 2015-12-12
Fosjoas K1 motorized skateboard is the trophy piece in skateboarding history and it also thoroughly overthrew people's traditional perception towards skateboarding. Comparatively speaking, Fosjoas K1 kids electric unicycle is more than a skateboard. It also can be a transport for daily use, a plaything for entertainment or an exercise equipment for bodybuilding. What is more, it will benefit the travels during Christmas Day.
Christmas is a lively festival. Many people will flood into high streets and back lanes. This year, boys and girls can ride Fosjoas K1 electric skateboard and weave on streets excitingly. Just as its name implies, it is powered by electricity and thus it liberates rider's physical strength largely. Meanwhile, it also relies on aerospace attitude control theory, fuzzy software algorithm and gyroscope system to keep itself balanced. Then, if riders slightly lean forward, the Fosjoas K1 electric skateboard will advance automatically, and vice versa.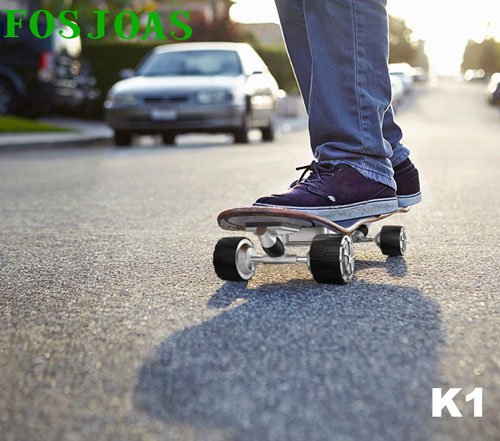 The attractive appearance is also one highlight of Fosjoas K1 skateboard. Its board is designed by world-famous designer, which owns smooth figure line and excellent texture. In order to make Fosjoas K1 skateboard lifelike, it is also equipped with DIY stickers with fashionable patterns. For example, the pattern of Christmas tree or Santa Claus can be printed on the sticker so as to sever as a foil to the festival atmosphere.
Besides as a plaything, Fosjoas K1 best electric unicycle also can solve the travels during Christmas Day. It is equipped with advanced SONY lithium-ion battery with 81.4Wh and 163Wh capacities. According to the practical test, the maximum range of Fosjoas K1 skateboard is almost 30km. Generally speaking, it can cover all short-distance travel needs. Now that Fosjoas K1 skateboard is so useful, and it is also a very good Christmas gift. Many parents would like to buy it for their kids. Believe me, Fosjoas K1 skateboard will make the upcoming Christmas more exciting.