Fosjoas Self-balancing Unicycles V6 Are Thin Yet Powerful
Source:Fosjoas begin Time: 2015-12-14
Since Moben Global Inc. rolled out Fosjoas electric self-balancing scooter, more people are interested in the new intelligent vehicles. The newest model V6 has brought together the top technologies and design of Fosjoas unicycles. They appear rougher and thinner than other unicycles. And the performance of Fosjoas V6 is much more powerful. They not only can be used in commuting, but also pay much attention on cross-country functions.
Fosjoas electric one wheel scooters V6 still choose the original Sony/Panasonic lithium batteries, top 10 Cheng Shin Tyre and synthetic resin shells which are made of advanced nano-materials. What's more, Fosjoas V6 has adopted the larger wheels, whose size is 16-inch. It looks much rougher and more high-end than other unicycles. The larger wheel hubs help improve V6's road-holding performance and make cycling on V6 safer. Although Fosjoas designers use larger wheels to produce V6, it is designed to be thinner. Thus, Fosjoas unicycles V6 are still very light. With Fosjoas V6, riders can deal with various road conditions very well. Even a girl, she can easily cross the grass and pond with Fosjoas unicycle V6.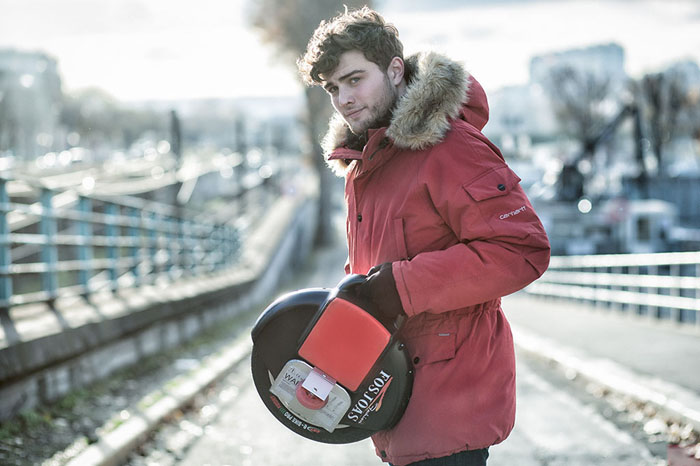 Inheriting the great performance of former products, Fosjoas designers put intelligent chips in V6. The smart chips in Fosjoas single-wheeled scooters V6 use the latest intelligent balance system. It has taken aerospace attitude control theory, fuzzy software algorithm and gyroscope system to keep self-balancing. The outstanding self-balancing ability makes cycling on V6 more flexible and convenient. And riders can easily show their wheelies on V6.
In addition, Fosjoas self-balancing unicycles V6 have the longest range among all Fosjoas unicycles. The battery capacity of V6 is up to 170kWh. It only needs 2 hours to reach the full charge. The fastest speed of V6 is 18km/h. Riders may have fantastic trips with Fosjoas V6.
Fosjoas one-wheel electric scooter V6 are thin yet powerful. As a latest Fosjoas unicycle, V6 has met multiple needs of users.