If Christmas Comes, Can Fosjoas K1 Motorized Skateboards Be Far Behind?
Source:Fosjoas begin Time: 2015-12-14
Christmas is one of the most popular festivals in many countries, people like to enjoy the long holiday. Some will choose to travel around for the beautiful scenes while others may want to exercise to keep fit. Though different people have different ways to pass Christmas, Fosjoas K1 electric skateboard is the necessity for all of them. The electric skateboards can meet the demands of various groups of customers. No matter exercise or travel around, Fosjoas K1 is the good accompany for all the customers.
Fosjoas K1 is the motorized skateboards which is designed like the general skateboards. It is equipped with a motor which provides power rather than manual power. The two balancing chips is equipped under the plate to keep balance. The two chips can prevent the case that one of them does not work and prevent the potential dangers and risks for the riders. No matter riding to travel around or doing exercise, riders can choose whether they can travel out or exercise around the house freely.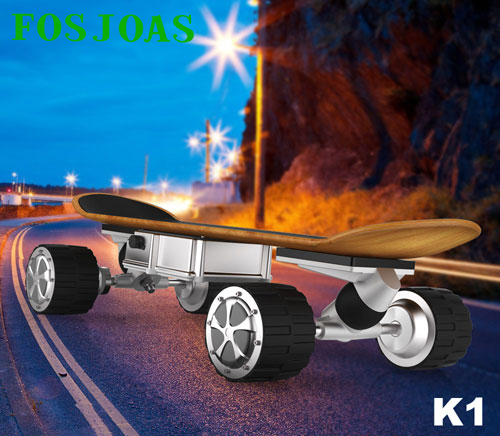 Remote control is another point. Fosjoas K1 can be started, stopped or speed up through the remote control. Users just need to stand on the plate to enjoy the scenes on the street. Besides, the attach of the wireless remote control skateboards is also changeable. So the tags with certain pattern or logo through the online store of Fosjoas can be bought by customers, which can make the electric skateboards unique.
Some customers may worry that the best electric skateboards may be not stable on the rocky path. Equipped with TPU shock absorber, it can reduce the bump effectively. The riding experience will be more comfortable for those customers, so the journey or process of exercise will be enjoyable and satisfactory. The shock absorber can also reduce the accidents or dangers that may be caused by little rocks.
As a result, Fosjoas K1 intelligent self-balancing scooters is the best transport for people with Christmas holiday. Christmas is coming, Fosjoas K1 is not far behind!