Small Gift, Best Wishes - Fosjoas Two Wheel Electric Scooter V2
Source:Fosjoas begin Time: 2015-12-18
For the coming Christmas, everyone has his own wish list, John, who is Lily's father finds that there is a special stuff on his daughter's list - Fosjoas two wheel electric scooter V2. To satisfy Lily and to know of the unique vehicle in its entirety, John contacts person concerned to solve puzzles.
Fosjoas V2 is the first self-balancing scooter characterized by LED atmosphere lights. With this delicate detail, not mention the riding experience of riders gets improved, the appearance is so smart with this accessory. What's more, there are several colors of cushion pad for people to choose, such as blue, lime green, because the cushion pad is removable, people can change the color as they like. To enhance the protection system, the cushion pad uses doubled size. The pedals are upgraded round-shaped for which the smooth edge will protect riders' ankles from scrapes.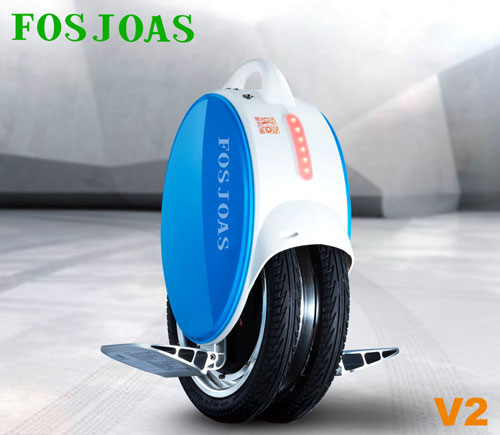 In addition, the shape suits people's feet more and delivers more comfortable riding experience. The material pedals use is solid and light aviation aluminum, so no matter riders themselves or their parents do not need to worry about any hurt caused by inferior material. Because Fosjoas electric scooter V2 is the vehicle calls for green commute style, Fosjoas V2 applies Sony Li-ion battery which features 1800 recharge times to offer power. With longer life expectancy and duration, the battery mounted on Fosjoas V2 owns absolute advantages over other ordinary lithium batteries. Any security issue such as battery burning or explosion will not happen at regular service.
Actually, as parents, what they worry about most are the safety of children, the completed safety system has been designed through the whole scooter, even the simple cushion pad demonstrates the care of developers. After knowing Fosjoas self-balancing unicycle V2, John has a positive answer to this small gift.