Fosjoas Intelligent Self-Balancing Electric Scooters Green the Forthcoming Christmas
Source:Fosjoas begin Time: 2015-12-19
The long-awaited Christmas is coming. It is a lively but also busy festival. When it comes to the travels during this festival, the requirements are soaring: people have to go to supermarket to buy some foods or other materials for Christmas, they also need to select exquisite Christmas gifts for their loved ones and they still need a convenient transport to take part in family party or friends' party. There is a thing that can satisfy above all demands and its name is Fosjoas intelligent self-balancing electric scooter. It can solve the travel needs during Christmas and also can be a Christmas gift.
Actually, Fosjoas intelligent self-balancing electric scooter is a joint name, because it owns many different scooter types, including electric unicycle, twin-wheeled electric scooter, two-wheeled scooter, SUV scooter, sitting-posture scooter, mini self-balancing scooter and motorized skateboard. Rich types decide the big consumer base. Compared with traditional transports, Fosjoas electric scooters expand their consumer groups even to little kids and the elderly, which benefits from two main aspects. For one thing, they are powered by electricity, which not only saves manpower, but also is eco-friendly. It is well-known that consuming electricity won't discharge any exhaust.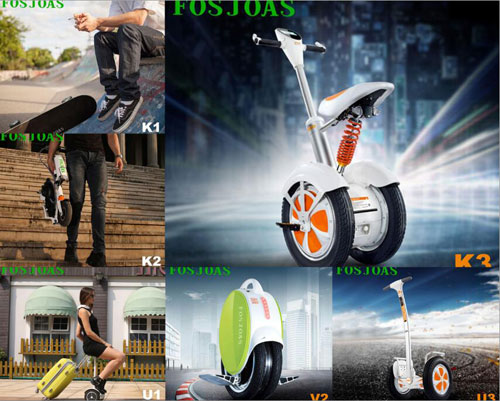 For another thing, they are based on adopted aerospace attitude control theory, fuzzy software algorithm and gyroscope system to realize self-balancing, which paves the way for relaxing and easy controls. For example, if a rider wants to reduce the speed or brake, he just needs to lean backward.
Besides travel transports, Fosjoas self-balancing two wheel electric scooter can do a lot more. For example, V6 electric unicycle can be used an exercise tool and riding it regularly offers people robust body, U1 mini electric scooter also can be a plaything for kids and K1 skateboard is crazily loved by many boys and girls, etc. All in all, Fosjoas electric scooters must be decent Christmas gifts.