Fosjoas K1 Electric Skateboard Ignites Inner Skidding Desire of Skateboarding Lovers
Source:Fosjoas begin Time: 2016-03-21
I met Fosjoas intelligent self-balancing electric scooter on a big show and I fell in love with K1 electric skateboard in the very first place. In fact, I am a big fan of skateboarding in my spare time and I have collected several different kinds of skateboards. However, I firstly heard of the skateboard that is powered by lithium-ion battery. I loved it so much, but more was curiosity. Then, I logged in its official website and placed an order online directly. Several days later, I received it. Here, I am willing to share my first-hand experience and feelings after riding with more people. After all, good high-tech product always should benefit all people.
Just as its name implies, Fosjoas K1 electric skateboard is driven by lithium-ion battery. That is to say, it doesn't need too much physical strength to control it. Meanwhile, consuming electricity won't discharge any harm exhaust to the living environment. Therefore, it is an environmental-friendly skateboard. At the same time, Fosjoas K1 electric skateboard is also equipped with a 2.4G wireless remote control, which can finish various controls within 10m. In fact, skidding Fosjoas K1 electric skateboard is very easy. For instance, I stand on its board and realize accelerating and decelerating by leaning my body forward and backward. Like other Fosjoas electric scooters, K1 electric skateboard also has the limit on maximum speed. If my skidding speed is faster than 18km/h, I can't further accelerate by leaning forward anymore.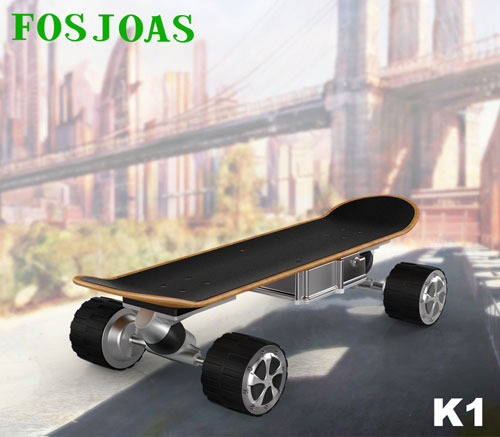 Now that Fosjoas K1 self-balancing skateboard is equipped with lithium-ion battery, it means that range exist. Generally speaking, full-charged Fosjoas K1 self-balancing skateboard can be running for 20km. Here comes another role of Fosjoas K1 skateboard-transport. If the distance is not far, riding Fosjoas K1 discount electric skateboards is a very good choice. All in all, Fosjoas K1 skateboard is more than a plaything.