Ride Fosjoas V2 Twin-Wheeled Electric Scooter to Swim in a Beautiful Lake on Warm Sunday Afternoon
Source:Fosjoas begin Time: 2016-03-29
The temperature is rising with each passing day and it seems as that summer is on her way to us day by day. Today is another sunny and warm afternoon. Specifically speaking, it is a little hot. I can't help missing the cool water in Crescent Lake that is about 5km away from my house. As I have bought a new Fosjoas V2 two wheel self balancing scooter recently, I decide to ride it to go there and enjoy cool water heartily.
After a while, I pack swimsuit ready and carry up my Fosjoas V2 twin-wheeled self-balancing scooter. Frankly speaking, it is the very first time that I ride Fosjoas V2 twin-wheeled self-balancing scooter to my loved Crescent Lake. On my way to Crescent Lake, there are so many people and cars on road. However, I can ride Fosjoas V2 twin-wheeled self-balancing scooter and weave among them freely because of its small and flexible figure. 20 minutes later, I get to the lake. My whole body, including four limbs, waist, neck and back, is not fatigued at all, which proves that riding Fosjoas V2 scooter is not laborious but enjoyable.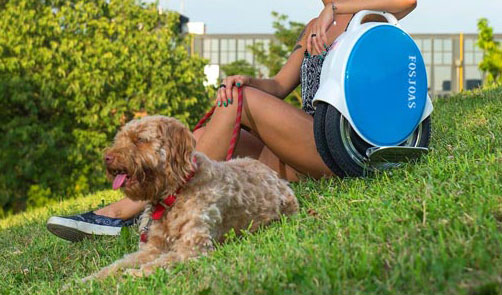 When I am swimming in the Lake, I put Fosjoas V2 electric scooter and bag on the bank. The two azure blue cushion pads are very striking. I spend about an hour in the lake happily and freely. After that, I intend to find a restaurant nearby, because I feel a little hungry. When I stand on the pedals of Fosjoas V2 electric scooter again, I won't feel tired at all. On the contrary, it is very relaxing. I slightly lean forward and Fosjoas V2 two wheel electric scooter takes me moving forward automatically. It is really a happy journey with Fosjoas V2 electric scooter.