Riding Fosjoas self-balancing electric scooter is guaranteed by multiple protections.
Source:Fosjoas begin Time: 2016-04-12
Though the last year has experienced vicissitudes in the self-balancing electric scooter whole industry, such problem has not yet come up in Fosjoas self-balancing electric scooter. It holds on to the principle that safety is the pre-condition of entertainment. If there is no guarantee of safety during ride, there will no happiness and fun. For the purpose of ensuring the safety, Fosjoas carries out several protection system or measures in its Fosjoas electric self-balancing scooter for the tilting protection, speed limit protection, and low battery reminder.
When Fosjoas intelligent electric scooter tilts to over 45°sideways, e.g., when Fosjoas turns over, the control system will activate tilting protection. The motor will stall immediately to prevent injuries. While the speed limit protection makes many riders, especially the male enjoy a safe riding. Especially for the beginners of Fosjoas, they especially should be careful about the speed when they are steering Fosjoas intelligent self-balancing scooters. In addition to the speed limit protection, Fosjoas also has the tilting protection. It is rather natural for them to fall off Fosjoas electric scooters for the beginners. If when they fall off and the Fosjoas electric scooters tilt, it is fairly necessary to stop the motor of Fosjoas electric scooter. Fosjoas realises this point and introduced the tilting protection system to it. Thereby when the electric scooter tilts to a certain angle, it will stop operation and hoot the warning to the rider.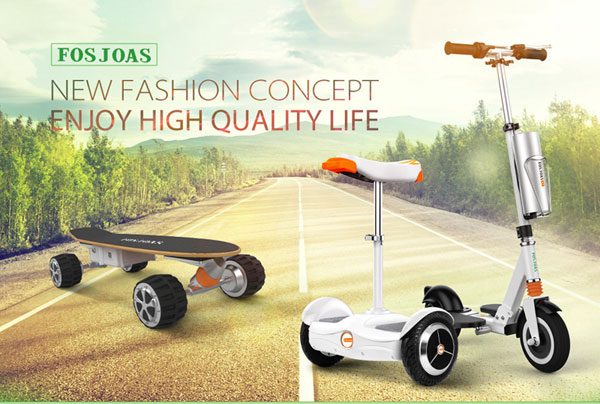 It is worth mentioning that even though there are comprehensive protection systems on Fosjoas, riders must do so with caution. There are risks associated when riding any mobility vehicle. Fosjoas is no exception. Please fully read this User Manual and understand its contents in its entirety before attempting to operate the Fosjoas intelligent one-wheel electric scooter.