This is Diana's favourite gadget-Fosjoas K3 saddle-equipped electric scooter
Source:Fosjoas begin Time: 2016-04-19
There is stereotype on the self-balancing electric scooter, namely they can be ridden only by standing to lean backward and forward. To break such stereotype, Fosjoas rolled out its first sitting posture self-balancing scooters K3 to satisfy more riders with different demands. Also, Fosjoas K3 saddle-equipped electric scooter is Diana's favourite gadget. K3 sitting posture self-balancing scooter is a credit to Fosjoas's line of electric self-balancing scooter.
In the first place, Diana was impressed by its riding mode-the sit-on mode of riding which alters stand-on ones. No one had seen the sit-on electric self-balancing scooters before the roll-out of Fosjoas K3 two wheel self-balancing electric scooter. Fosjoas pioneered a new riding mode. More importantly, the Fosjoas K3 is more beginner friendly. As long as she sits on the leather saddle of Fosjoas K3, she can steer it expertly and smoothly, without any difficulty. Parallel lithium batteries of 2600mAh, with power 5 times of traditional lead acid battery, enables Fosjoas K3 to provide enough power. Each battery core is equipped with PTC for current and tempter protection. The dedicated LCD panel makes for a perfect riding and gives an overall information about the scooter condition.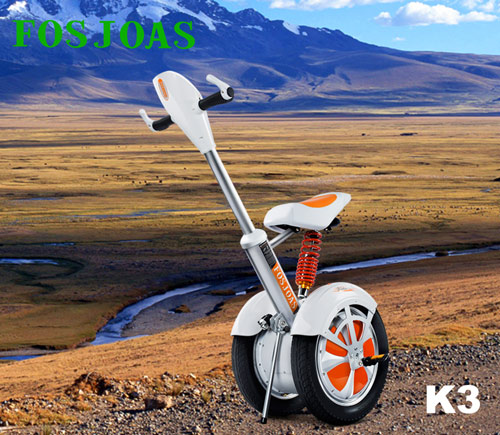 What makes Fosjoas K3 saddle-equipped electric scooter ahead of time, in Diana's opinion is its technology. The first laudable is its hydraulic suspension which offer a comfortable ride. The leather saddle is complementary to the hydraulic suspension. Iridescent light gives you full personality pulse notification light ensures a safe night riding. Braking is achieved through electric control instead of mechanical drive, making the braking instant, accurate and safe. Another is that Fosjoas K3 self-balancing 2 wheels scooter can be connected into the mobile phone of the user. Diana can check scooter information anytime and anywhere, scooter positioning and anti-theft alarm 24 hours. This is Diana's favourite gadget—Fosjoas K3 two wheel self-balancing electric scooter.