FOSJOAS electric scooter is a presentable gift for all festivals.
Source:Fosjoas begin Time: 2016-05-31
One of the most important traditions of festival is to exchange gift. It is a happy thing to receive gift, but it is a formidable job to pick and choose gift. FOSJOAS electric scooter is a presentable gift for all festivals. For instance, if the receiver is an adolescent, FOSJOAS V5 twin-wheeled electric scooter or the K1 motorized skateboard is suitable for him. Upgraded System upgraded and geared with a faster and more accurate CPU with Intelligent Technology and humanized design. FOSJOAS V5 is celebrated for its twin-wheels, much easier to learn compared with the V6 electric unicycle. FOSJOAS V6 one-wheel electric scooter is a bit hard to ride. It seems difficult for beginners to learn it.
FOSJOAS K1 electric skateboard has reduced the riding difficulty greatly with the join of 2.4G wireless remote control and motor. Intelligent battery management system and power supply intelligent protection system can not only precisely calculate electric quantity and charge/discharge, also provide safety protection for current, voltage, temperature, and connection exception. More importantly, the DIY attribute of FOSJOAS K1 wireless remote control skateboard appeals to them much. They can create their own unique skateboard through their own work.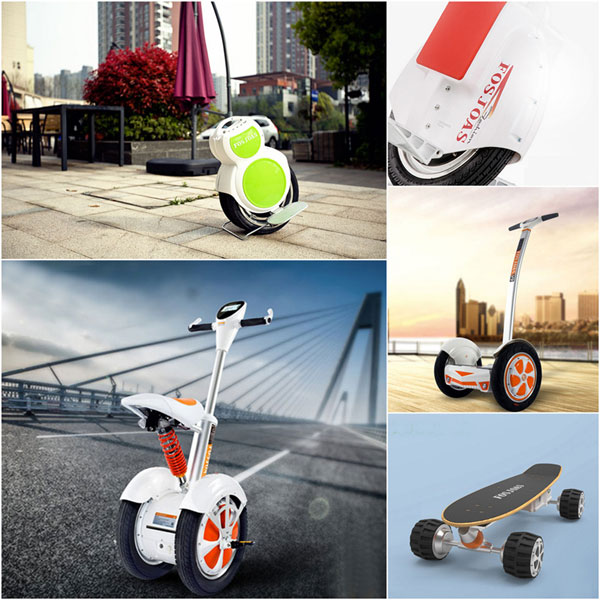 For the majority, the FOSJOAS two-wheeled intelligent scooter is an obvious choice as a transport, for example, the U1, U3, K3 and K5 etc. FOSJOAS U1 is a kind of mini saddle-equipped electric scooter that is enjoyed by the females. By contrast, the FOSJOAS U3 is more favoured by the males to show off their manliness. FOSJOAS K3 inaugurated the sitting posture self-balancing scooter era and caused a revolution in the self-balancing electric scooter sector. While the newly released FOSJOAS K5 indicates the future development trend for the intelligent electric scooters, the triple folding system, the upgraded App, the modular battery design, to name only a few.
To sum up, FOSJOAS self-balancing electric scooter is a presentable gift for all festivals.