Guess what, Fosjoas K1 electric skateboard makes joss meet his girlfriend.
Source:Fosjoas begin Time: 2016-06-06
Fosjoas Technology Co. Ltd aggregates software and hardware research, manufacturing and sales system with our core R&D team of 20-plus members coming from the U.K, Germany and the U.S and rich in experiences of advanced green transport means. Through years of arduous effort, our team has successfully developed the first electric scooter product and holds over 100 patents and intellectual properties to our name currently.
Joss met with his girlfriend in a sunny and warm winter afternoon. He was riding my new-bought Fosjoas K1 electric skateboard on the People's Square when he met his girlfriend. Fosjoas K1 electric skateboard is the key of love relationship between them. Her girl was attracted by Joss's skateboarding and Joss taught her girl friend to play it.
Fosjoas K1 wireless control electric skateboards are totally different and it is suitable for girls to ride, which benefits from two main aspects. With the 2.4G handheld wireless remote control, they can control the speed easily. More importantly, they can choose different speeds to suit to their riding level. On the other hand, it is powered by branded lithium-ion battery, which doesn't need much physical strength. Therefore, his girlfriend also can ride it smoothly.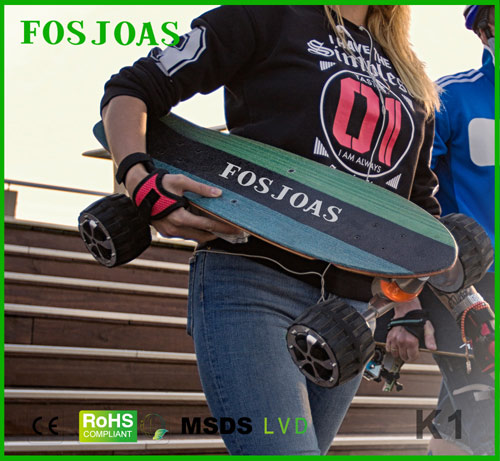 Fosjoas K1 maple electric skateboard also has become their transport to have dating. Equipped with 163Wh lithium-ion battery, Fosjoas K1 sustains the maximum range of 23km. On his girlfriend's birthday, he bought another Fosjoas K1 motorized skateboard as the gift. Then, they can have a weekend trip by riding Fosjoas K1 motorized skateboard together.
Besides, Fosjoas offers many beautiful and attractive stickers for Fosjoas wireless remote control skateboard K1's board. They can select one with Spider-Man pattern, because his girlfriend loves it very much. Fosjoas K1 DIY cheap electric skateboard makes you move ahead both your body and spirit. To play with DIY spirit, your life will become more wonderful and energetic.