Fosjoas V3, the Mobile Advertisement to Promote Enterprises
Source:Fosjoas begin Time: 2015-09-17
Watching Television programs while the advertisement appear in a sudden for several minutes; walking on the street while many brochures or posters are distributed; checking the email only to find many junk mails, this is what happened everyday. People are tired of those ways of promotion since they regard this as a kind of harass. Enterprises are trying their best to find some new way of promotion, which will not distribute the people and the target customers can be impressed deeply at the same time. Fosjoas V3 self-balancing electric unicycle provides the mobile advertisement can be attractive and impressive.
Fosjoas V3 is the electric scooter with silicon protective pads on both sides, the pads can be changed as customers' wishes. Enterprises can customize the special pads with the advertisement of their products or services. As a result, when riding on the road, other riders and pedestrians can see the advertisements on the pad, which must be impressive and attractive. For enterprises, the more target customers their advertisements face, the better the effect is. So enterprises must spend a large sum of money to cover more target customers. Since Fosjoas V3 can move very fast, so the advertisement can be moved around the city to face more target customers. That is to say, enterprises just need to spend a certain sum of money to purchase Fosjoas V3 rather than the payment on endless advertisements.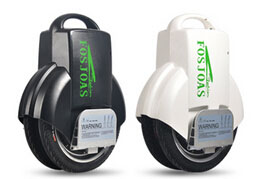 Fosjoas V3 is also the self-balancing electric scooter easy to operate. It takes only five minutes for green hands to learn how to operate. The pedal with wider contact areas help riders stand steadily and avoid scratches of turnover or falling down. The over speed protection, the turnover protection mechanisms can also prevent riders from potential dangers.
Fosjoas V3 two-wheel balancing electric scooter is the ideal advertisement media for enterprises since it is a totally new way of promotion. Enterprises just need to purchase some scooters and customize the content of promotion on the pads. Fosjoas V3 can help those enterprise to the focus of target customers.