The Advent of FOSJOAS Electric Self-balancing Scooter V9
Source:Fosjoas begin Time: 2015-09-23
From the year of 2010 on, Moben Global Inc. has rolled out the single-wheeled intelligent scooters and the twin-wheeled intelligent scooters. The single-wheeled intelligent scooter like FOSJOAS V6 boasts its nimble nature, especially when it turns. Therefore, those single-wheeled intelligent scooters interested the highly skilled players, who used to ride them in the street and parks. Their thrilling wheelie always attracted a host of pedestrians. However, not everyone is able to steer the one-wheel scooter. As for the beginner, steering it smoothly takes some doing.
To meet the demand of common scooter-lovers, Moben Global Inc. released the twin-wheeled scooter. The twin-wheeled system enhances the ability of FOSJOAS scooter to maintain balance in a sense and shorten the time going on learning. Unfortunately, the modification did not meet all the demand from customers. They needed easier-to-ride scooter. In view of that, Moben Global Inc. finally pushed out the FOSJOAS electric self-balancing scooter V9.
In the whole sector, FOSJOAS electric self-balancing scooter V9 is an innovation. It originally created the two-wheeled system. Moben Global Inc. was the first one to apply the two-wheeled system to the FOSJOAS electric self-balancing scooter V9, offering a clear model to the whole sector and ushering in the phase of two-wheeled scooter.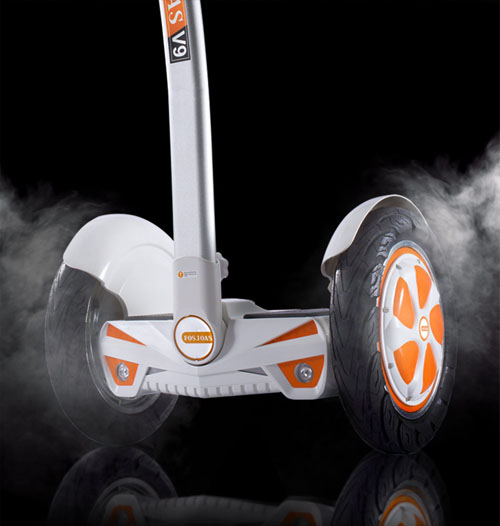 The two-wheeled hub system helps FOSJOAS V9 keep balance better. Even when FOSJOAS V9 does not operates, it can stand still and will fall over. For a beginner, he could learn to steer it as soon as he stand on FOSJOAS V9 two-wheel electric unicycle. It came as a blessing to those who have few time on learning intelligent self-balancing scooter but intend to ride it.
By virtue of the ease of use, FOSJOAS V9 is widely used in many fields. It is easy to see it being used in works. In some works, workers riding it to another workplace in the large paddocks. In golf paddocks, ball boys usually ride FOSJOAS V9 come and leave.